Vintage fixtures add pop to restored Hubbard Hall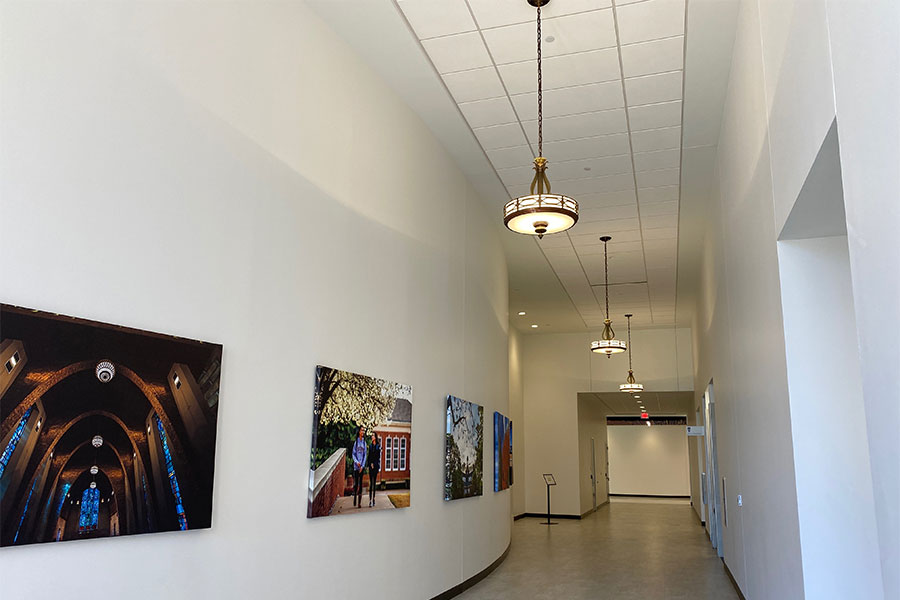 It has a modern food court, a pulsing game room and a high-tech student support space, but perhaps the most dazzling feature of the recently refurbished Hubbard Hall is one that offers a discerning nod to its storied past.
They are solid bronze, hand-crafted and vintage. And the 38 light fixtures adorn ceilings in several Hubbard Hall spaces, including the rotunda, Redbud Room, refreshment bar, quiet study area and the hallway outside the southeast ballroom.
The light fixtures are estimated to be about 70 years old, and were created using intricate casts to produce the precision metalwork.
"These are phenomenally well made and much nicer than anything you could buy today," said Samantha Hollomon, a principal with the Annapolis, Maryland-based architectural lighting consulting company LightWork LLC, which oversaw the restoration of the fixtures.
Because of how old they are and the fact that they had never been thoroughly cleaned, the process of restoring the fixtures was undertaken meticulously. Although each was uninstalled carefully, many fixtures were showing signs of what years of wear and tear can do. There were chips and cracks in some cases, bent metal in others.
"Plus, there was roughly 70 years of dust and oxidation," Hollomon said.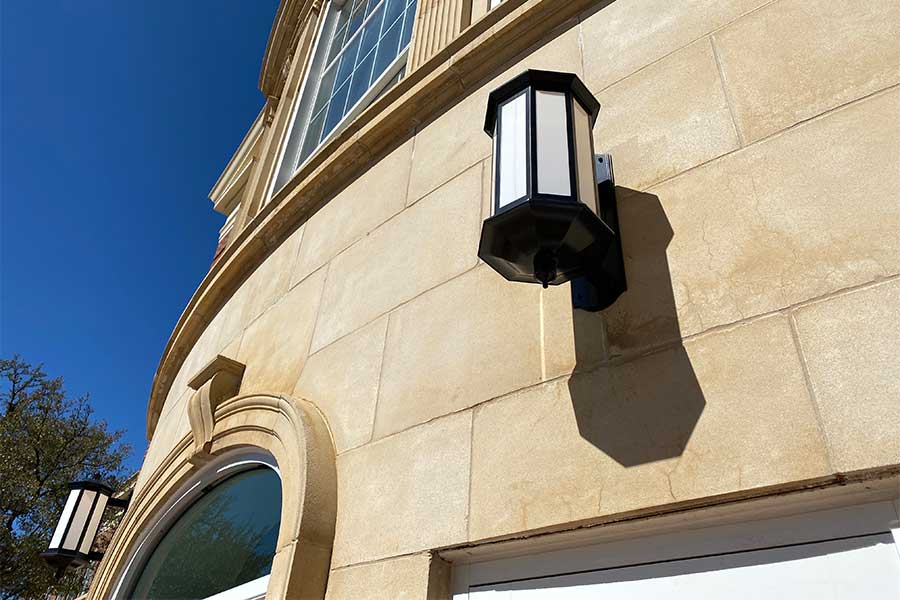 The fixtures were packed gently in crates and shipped to St. Louis-based McFadden Lighting, which specializes in decorative fixtures. There, the labor-intensive task of hand cleaning and restoring took place. Wiring had to be replaced, glass diffusers were delicately cleaned, lamp holders had to be removed and incandescent bulbs were supplanted with modern LED lamps, which use 75 percent less energy.
There was even an art to the cleansing itself, as "over-cleaning" could have potentially produced a discoloration in the fixtures.
After the months-long cleaning and refurbishing project was completed, the fixtures were once again carefully packed and shipped back to TWU's Denton campus for re-installation.
"It was an absolute labor of love — given the level of attention to detail," Hollomon said. She noted that it's generally more economical to replace fixtures in renovation projects.
"The university was really clear about how the building served students and the community, so all of us on the design team understood how sentimental this project was."
Besides the vintage lights, there are other fixtures that honor Hubbard Hall's past. Two wall-sized mirrors that occupied adjoining dining rooms for decades were restored and now adorn the new quiet study lounge. And new wall medallions made from the original cast by a Chicago company in the mid-1900s were added to the rotunda and the third-floor Redbud Room.
It is these ornamental touches that add an air of steeped tradition to an otherwise modern space, said David Sweeten, Student Union & Conference Services director.
"The building is special not only to TWU but to the Denton community as well," Sweeten said. "By preserving the lighting, the mirrors and the medallions, it has allowed us to stay connected to the past and highlight some of the unique features of Hubbard Hall."
Media Contact
Matt Flores
Assistant Vice President, University Communications
940-898-3456
mattflores@twu.edu
Page last updated 2:21 PM, February 24, 2020