TWU's top scholarship awarded to McKinney HS senior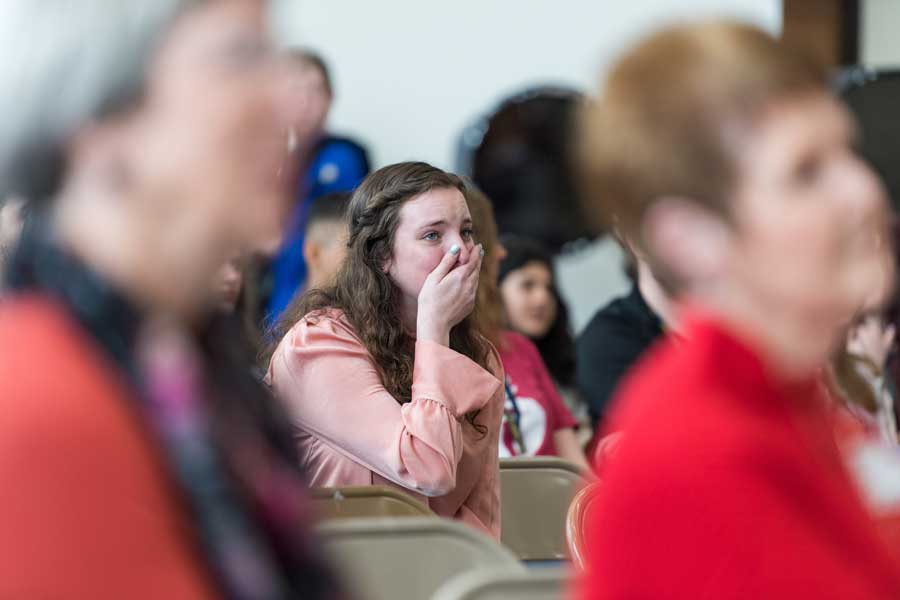 March 2, 2020 —McKINNEY— Sometimes, surprises aren't just big, they're transformational, too.
And for Caroline Deitch, whose outstanding academic credentials put her near the top of her senior class at McKinney High School, the surprise was a full-ride scholarship to Texas Woman's University.
To boot, the good news was delivered in person by TWU Vice President of Enrollment Management Randall Langston, who was among several guests at a surprise reception at McKinney High School to mark the occasion. The celebration included Deitch's parents and brother, teachers, administrators and even the school's drum line.
The Chancellor's Endowed Scholarship is Texas Woman's top scholarship award, and it is typically given out once a year to students who exhibit outstanding academic achievement, leadership and service. The scholarship covers all tuition and fees for four years and is valued at about $50,000.
Deitch, who plans to pursue a degree in music therapy, said she chose Texas Woman's because of the program's strong reputation.
A top-notch musician with the flute, Deitch worked her way up through her music program's student leadership team and is now drum major. She is a National Merit Commended Scholar, an AP Scholar with Distinction and a national winner of the Mark of Excellence project by the Foundation for Music Education. She also received the McKinney Rotary Club Academic Excellence award.
Besides being a member of the McKinney High School Royal Pride Band for four years, Deitch also has been a member of the Women's Chorus, the Theater Orchestra, the German Club and a University Interscholastic League academic competitor in computer applications and accounting.
Additionally, she has been an active participant with the Crosspoint Student Ministry and a volunteer with Vacation Bible School.
Media Contact
Matt Flores
Assistant Vice President, University Communications
940-898-3456
mattflores@twu.edu
Page last updated 8:48 AM, March 5, 2020