TWU camp opens opportunities for girls interested in STEM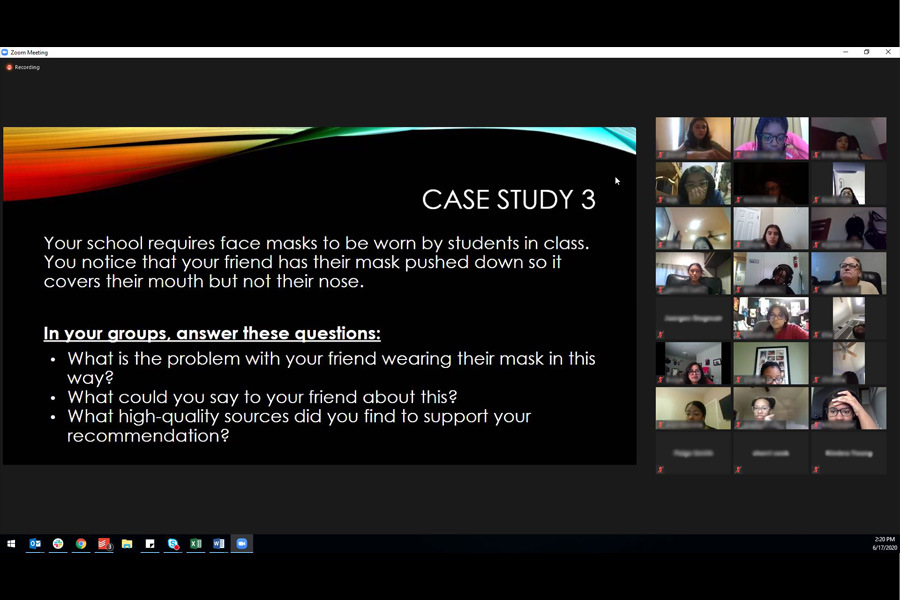 July 7, 2020—DALLAS—When COVID-19 made in-person summer camps difficult, a TWU team quickly shifted plans to host a summer camp online for participants in the Girls Inc. of Metropolitan Dallas Eureka! STEM program. In June, more than 30 girls attended the four-day virtual summer camp focused on stimulating their interest in science, technology, engineering and math career fields.

According to Mai Nguyen (TWU IT Solutions), one of the lead organizers of TWU's camp, the university and Girls Inc. had been working together since January to plan an in-person, week-long camp on the Dallas and Denton campuses. Moving the camp to an online format happened just a few weeks prior to the scheduled event, but members of the planning team were prepared and quickly recruited TWU faculty and staff to host Zoom sessions covering topics such as women in leadership, values and goals, nursing, and STEM majors and careers.
"When we reached out to the TWU community for support, the response was overwhelmingly positive," Nguyen said. "We let TWU volunteers determine what they wanted to present during their virtual sessions. We gave them a goal, and they planned everything, ensuring that sessions were interactive."
For example, the College of Nursing hosted an activity that gave the girls insight into the nursing world. Through an engaging session that included breakout groups, TWU Nursing faculty members led a trivia-style session covering topics such as COVID-19, protective equipment and related case studies. The girls were given a scenario, discussed the topics in small groups and then joined the larger session to share and discuss their answers more fully.
Another popular session, organized by IT Solutions employees, focused on values and goal setting. The girls were asked what drives them to accomplish their life goals, how their values relate to them, and how to handle adversity. As part of the session, participants wrote letters to their future selves on what they believe they will have achieved, overcome and celebrated by that point in life.
"This session provided them with opportunities to self-reflect and envision their future in STEM," said Sherri Cook, director of outreach and impact data at Girls Inc. "Activities like these can be transformative for girls who may not get this encouragement at home or in school."
This was the second year TWU has hosted the camp. TWU IT Solutions wants to host either online or in-person again next summer. Plans are in work to expand the program so more departments can support and participate.
"We see the value of partnering with Girls Inc. for this program and being role models to these girls," Nguyen said. "It's great working with these young women and getting the chance to share with them different opportunities they may not have thought about before."
Cook of Girls Inc. said the organization also is interested in continuing the partnership with TWU. "TWU equips young women to enter the workforce with the tools and experience they need to succeed. Similarly, at Girls Inc., students discover and develop their inherent strengths, receiving the support they need to navigate any challenge they may face. We know the partnership between our Eureka STEM program and TWU will help prepare our girls to succeed in college and beyond. We are proud to work alongside TWU to create a more equitable future for Texas women."
Eureka! is a five-year STEM program offered to girls in grades 8 through 12. The program strives to build girls' confidence and skills through hands-on opportunities in science, technology, engineering and math. Each spring, Girls Inc. of Metropolitan Dallas recruits a new cohort of rising 8th graders, all of whom will participate in the summer STEM camps. TWU was one of four local colleges or universities participating in the summer Eureka! STEM camps program this summer.
Media Contact
Deanna W. Titzler
Director of Public Relations
940-898-3252
dtitzler@twu.edu
Page last updated 12:05 PM, July 8, 2020