Feminist activist donates archives to Texas Woman's University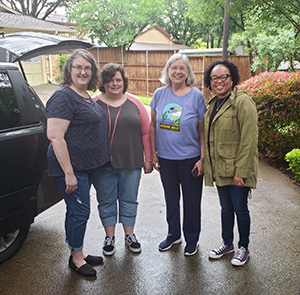 July 21, 2020 — Feminist activist Marcia Niemann recently gifted her personal archives to the Texas Woman's University Department of Multicultural Women's and Gender Studies and Blagg-Huey Library Woman's Collection. The Marcia Niemann Feminist Activism Collection will include court testimonies, music records, protest buttons, signs and rare books related to the women's movement from the 1970s-1990s.
Danielle Phillips-Cunningham, Ph.D., associate professor of multicultural women's and gender studies, organized the donation and is working with doctoral students to catalogue the items and interview Niemann. The collection will be housed at Blagg-Huey Library on TWU's Denton campus. Parts of the collection will also be digitized and made available to researchers, students and community activists across the country. "We anticipate completing the project in Fall 2020. The collection will then become available to the larger TWU and Dallas-Fort Worth communities," said Phillips-Cunningham.
Between 1978 and 1988, Niemann served as executive director of the National Coalition Against Domestic Violence (NCADV) and as a senior political organizer for the National Organization for Women (NOW) and NARAL Pro-Choice America.
"I grew up knowing the value of records of everyday life as historical documents," said Niemann. Her early work with NOW, the largest organization of feminist activists in the United States, increased her sense that it would be important to collect and save evidence of her work with the campaign for the Equal Rights Amendment.
"I saw carefully collected files on feminist issues at one organization where I worked destroyed when a new administration arrived and didn't think they were important, and many other files that dissipated and were lost as time went by. I talked with local history museums and women's studies departments in the late 1980s and 1990s, and they gave me advice on what to keep and how to preserve things, but said they had no funding or space for accepting the archives," said Niemann.
In 2019, Niemann was preparing to move and downsize. She reached out to the TWU Department of Multicultural Women's and Gender Studies, which enthusiastically accepted her offer of donating the materials. Phillips-Cunningham and Shelia Bickle, records retention manager for TWU's Special Collections, visited Niemann at her home to coordinate the transfer of materials. "Marcia was warm and gracious, and we are delighted to have her collection come to TWU, where it will be preserved and used for research," said Bickle.
"I am thrilled to know that the materials will be available to other people who might be interested just in the joy of reading as well as in the historical aspects," said Niemann, who acknowledges that many other important but forgotten documents still exist in the files and garages of her contemporaries. Such records "will be of value to researchers 100 years from now who are studying the women's movement of my time. I am worried that we are going to lose these valuable materials, and I long for the day when libraries, museums and scholars have raised the funds to set up more extensive feminist archives."
Most of all, Niemann hopes that "someone is systematically keeping track of the current organizing, protests and political work, which are based in social media and electronic technology, unlike the activism of my age cohort. Our work for justice and equality through social change is important and should be maintained for future generations."
Page last updated 4:58 PM, July 21, 2020