Denton Chamber honors Chancellor Feyten with highest award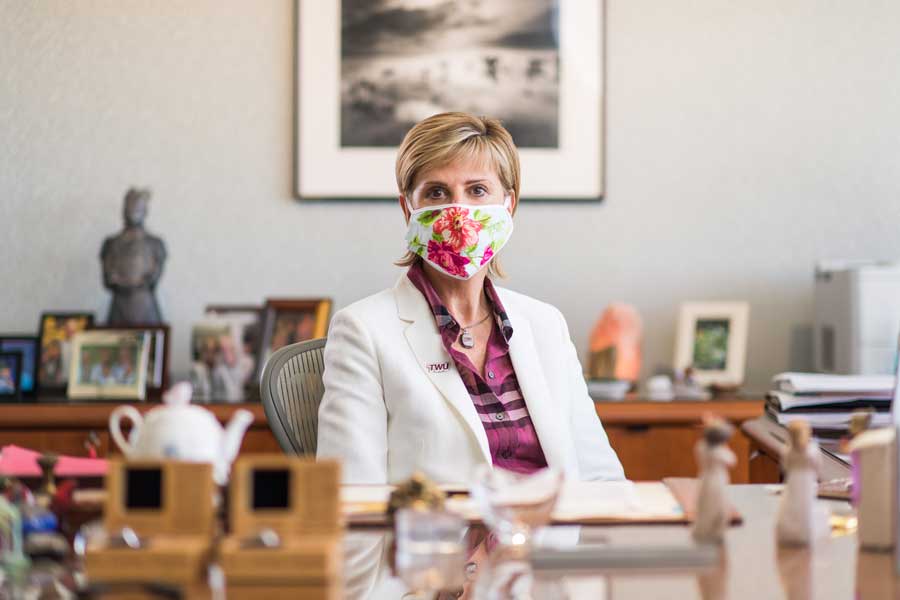 Sept. 25, 2020 — DENTON — The Denton Chamber of Commerce has recognized Texas Woman's University Chancellor and President Carine M. Feyten, PhD, with the organization's highest distinction, the Otis L. Fowler Award.
The honor was announced during the Denton Chamber's 111th annual awards event and recognizes individuals' outstanding contributions to the progress and welfare of the Denton community.
"Dr. Feyten's timely leadership and subsequent actions have raised the visibility and impact of Texas Woman's University within the Denton community, regionally and nationally," said Erica Pangburn, the Denton Chamber's president. "We are honored to celebrate her work and the example she sets for excellence."
The Denton Chamber has presented the award annually since 1960, and Feyten joins a list of other noteworthy individuals with ties to Texas Woman's University who have been so honored. Past honorees include John Guinn, Pauline Beery Mack, Mary Evelyn Blagg Huey, Derrell W. Bulls, Shirley S. Chater and Bettye B. Myers.
"This award is particularly meaningful to me because it demonstrates the university's true value to the community — something I am especially passionate about," Feyten said. "Texas Woman's contributes to the economic, social and cultural vitality of this community and the university enthusiastically embraces its role as a point of pride for Denton.
"This city is unique in having two fantastic universities which complement one another and make this community a special place. My gratitude to all the businesses, the chamber, the nonprofits and the amazing people who are the fabric of this city," she added.
The Fowler award is named for a former top executive at the Denton Chamber who served the organization for 30 years.
Media Contact
Matt Flores
Assistant Vice President, University Communications
940-898-3456
mattflores@twu.edu
Page last updated 5:33 PM, September 24, 2020