TWU team tackles astronaut shoulder injuries in NASA competition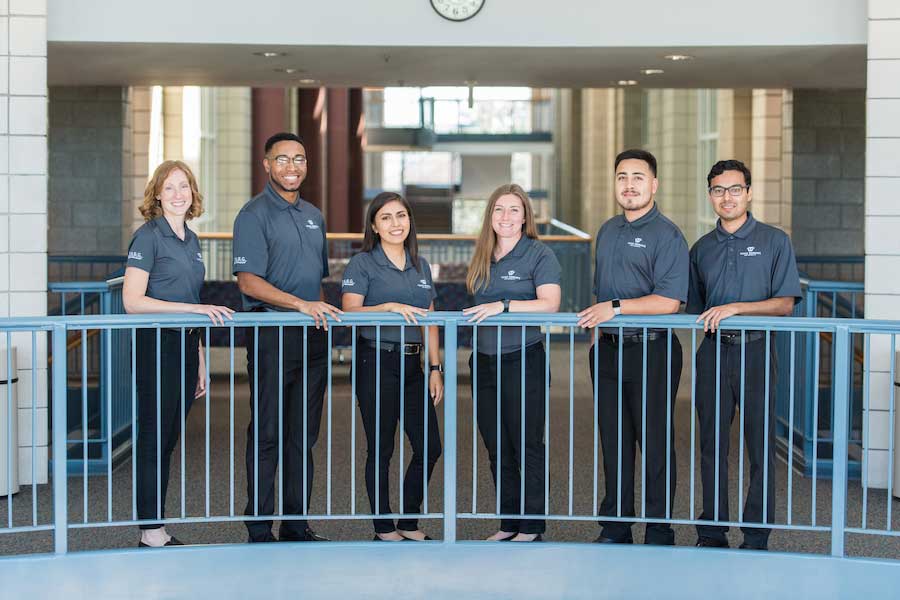 November 19, 2019—DENTON—Texas Woman's University sends its third team of senior undergraduate kinesiology students to the Texas Space Grant Consortium Design Challenge Showcase in Houston this week. They will compete against engineering and technology teams from universities across the state who are working to solve research problems identified by NASA. TWU's Good Vibrations will be the only team to have a project focused on the human aspect of space travel.
TWU's project centers around a design that addresses the prevention or mitigation of shoulder injuries in astronauts on earth and in orbit. According to research provided by NASA, there is high incidence of shoulder injury for active and training astronauts compared to other injuries, and these shoulder injuries often require surgery and/or extensive rehabilitation.
The Good Vibrations team designed a device to be worn by astronauts during extravehicular activity (EVA) training sessions and missions that will sense certain shoulder movements that are highly correlated to shoulder injuries, triggering a vibration feedback warning.
According to Team Lead Mikaela Rood, "Because of our team's collective interests in chiropractic work and physical and occupational therapy, we decided to direct our project toward astronaut physical health and wellness. The majority of shoulder injuries occur when astronauts wear the hard upper torso unit of their spacesuits. The impact of these injuries made it clear that prevention would be the most effective way to support astronaut health, which in turn, would provide long-term benefits to the space program."
TWU out to win again
TWU sent its first team to the design challenge a year ago. That team won top honors for its project developing a garment that targeted reducing lower back pain experienced by astronauts in microgravity. The team that competed in spring 2019 improved upon that design, making it more usable for long-distance space travel, according to team advisor Rhett Rigby, Ph.D., associate professor of health promotion and kinesiology at Texas Woman's.
"The TSGC design challenge is known for its two phases: the first one in the fall that focuses on developing a concept, and the second in the spring that requires the teams to create a prototype based on that concept," Rigby said. "TWU's teams condense this process. In less than six months, they conceptualize, develop and craft a physical product, and then present their project to NASA scientists. They are out to win."
In addition to Team Lead Rood of Grapevine, the Good Vibrations team includes Anthony Campos of Fort Worth, Alexandra Chapman of Boerne, and, from Dallas: Jose Canelo, Viridiana Silva and Sterling Walker.
Good Vibrations will show off its project at the Design Challenge Showcase, sponsored by NASA, Nov. 20-21. They will compete against 18 other university teams in categories such as best poster, best presentation, best model and best team overall.
About the Texas Space Grant Consortium
The Texas Space Grant Consortium is a group of 59 universities, industrial and non-profit organizations, and government agencies that work to ensure that the benefits of space research and technology are available to all Texans. The TSGC is one of 52 nationwide.

Because Texas Woman's University is an academic affiliate of the TSGC, TWU students are eligible to apply for Columbia Crew Memorial Undergraduate Scholarships and Graduate Fellowships and participate in the NASA Design Challenge team program, as well as other program and funding opportunities. The consortium also focuses on assisting new researchers in establishing research careers, enhancing research collaboration and mentorship with faculty, and conducting research aligned with NASA's enterprises.
Addressing the human aspect of space travel
Media Contact
Deanna W. Titzler
Director of Public Relations
940-898-3252
dtitzler@twu.edu
Page last updated 9:02 AM, October 12, 2022