TWU Athletics Director to lead new Pioneer MoneyWise Center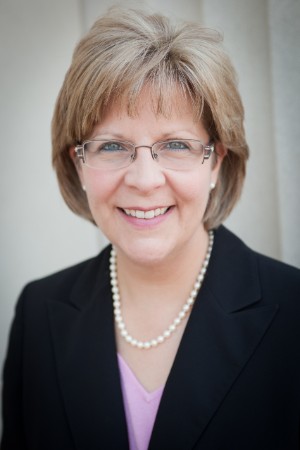 April 16, 2019 - DENTON - Texas Woman's University officials today announced the creation of a new center to help students manage their finances and have appointed Chalese Connors to lead the strategic effort.
Connors has served the university for more than two decades, including the past 18 years as director of athletics. In her new role, she will be charged with building a center that will educate students about financial literacy and student loan debt.
"Helping our students learn to successfully manage their financial situations is one of our strategic initiatives," said TWU Chancellor Carine M. Feyten. "To lead this effort, we need someone who has a strong record of leadership and who is familiar with scholarship management, our students, their needs and the barriers that they face."
Connors plans to continue serving as director of athletics until a replacement is found. Then she will assume her new duties as director of the Pioneer MoneyWise Center.
"Leading TWU Athletics has been extremely fulfilling and one of the most rewarding periods of my life," said Connors. "I'm very proud of what we've accomplished, and I'm ready to stretch myself professionally and take on something new."
According to LendEDU, the national student loan debt has climbed to $1.45 trillion. Additionally, the average college student holds $27,975 in student loan debt. It's becoming increasingly clear that that information, education and guidance in financial decision-making is absolutely needed.
The MoneyWise Center will seek to promote financial wellness by providing students with resources, workshops and the advice they need to avoid unexpected financial constraints. As ranked by LendEDU, Texas is home to three of the top 10 college financial literacy programs in the nation, and TWU will seek to implement best practices.
"There is such a huge need to help our students understand and manage their financial choices, and I'm eager to be part of this new venture," said Connors.
During Connors' tenure as director of athletics, TWU racked up five national gymnastics championships, two Lone Star Conference championships, two Midwest Independent Conference titles, one NCAA Division II national championship appearance, four NCAA Woman of the Year nominees and numerous regional and conference tournament appearances for teams and individuals. Additionally, TWU added soccer and moved from partially-funded student scholarships to fully-funded squads that are competitive and respected in NCAA Division II.
Texas Woman's will conduct a national search for a new director of athletics.
Media Contact
Amy Evans
Director of Student Life Communications
940-898-3607
aevans18@twu.edu
Page last updated 3:55 PM, April 17, 2019