Distinguished TWU alumna and softball legend makes record gift to TWU Athletics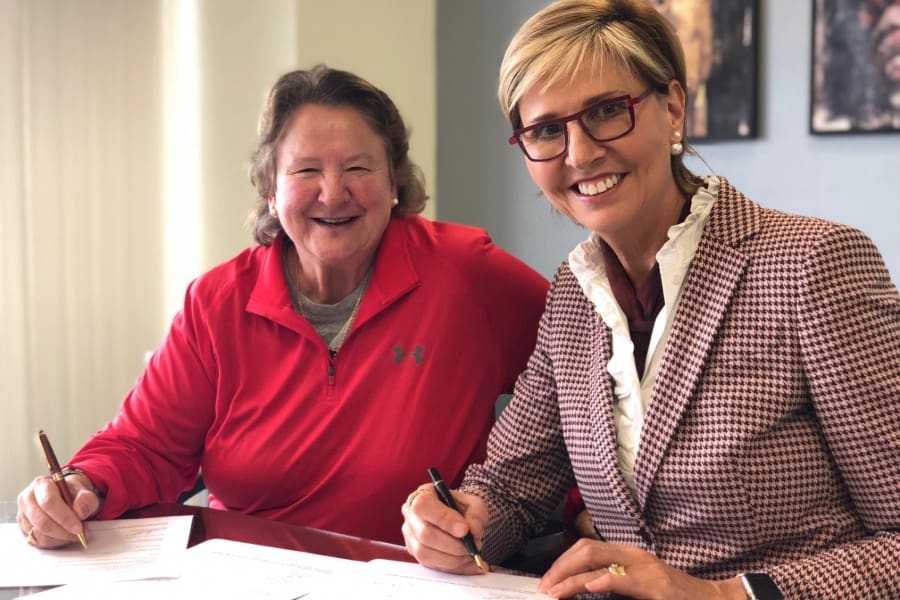 Feb. 22, 2019 - DENTON - Texas Woman's University officials today announced a gift of $500,000-the largest gift to the softball program and the single largest gift to TWU Athletics by a living alumna-from softball legend, Dianne I. Baker.
The commitment supports the upkeep and needed renovations of the TWU Pioneer Softball Field, a field that Baker originally designed in 1995.
"Dianne is a legendary coach who is well-known for inspiring her athletes and motivating young women to lead and succeed," said TWU Chancellor Carine M. Feyten. "Her thoughtful, generous gift will help us advance TWU's athletics program and provide opportunities to further develop our student athletes. I also very much appreciate her loyalty and commitment to investing in TWU's dynamic, bright future."
While many softball fields are surrounded by concrete, TWU's field is nestled among oak trees and rolling hills behind the university house.
"This field is unique," said Baker. "We want to keep it natural and make it a place where people can bring their families, have picnics, watch a game and support TWU Athletics."
Baker believes this field should honor others. She has coached 20 All-Americans and one Olympian and says this gift is for them as well as her competitors, teammates, former players, coaches and fans.
"Dr. Feyten was the first person to ask what I wanted my legacy to be. I gave it some thought and decided I wanted this gift to be about the people who made my career possible," said Baker. "It is their legacy as much as it is mine."
As a player, Baker lettered in five sports at Texas Woman's and was a four-year starter as shortstop, playing on the team that won the state softball championship and represented the state of Texas in the College Softball World Series in 1975.
As a coach, Baker has penned three books, produced the Dianne Baker Softball Series (17) videos, written numerous articles and is among the winningest coaches in NCAA history. She started her coaching career at Stephen F. Austin State University, eventually returning to her alma mater where she retired at the conclusion of the Pioneers' 2005 season with a 785-485-3 (.629) career record.
Renovations to the press box and seating will be prioritized with other university construction projects, coinciding with a TWU softball reunion in fall 2019.
Media Contact
Amy Evans
Director of Student Life Communications
940-898-3607
aevans18@twu.edu
Page last updated 10:43 AM, February 22, 2019