Capstone project yields success for students, health providers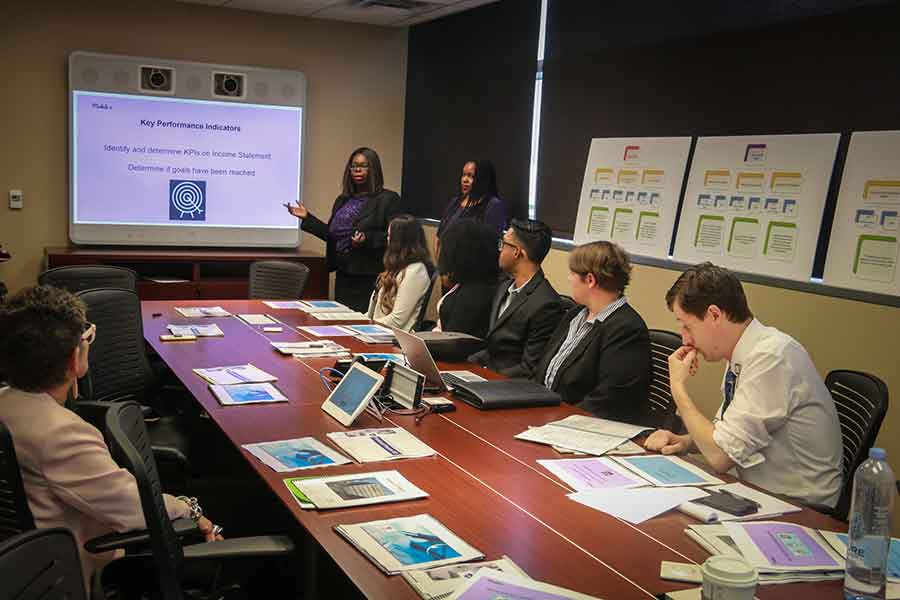 As one of the largest public hospital systems in the country, Parkland Health & Hospital System handles more than 1 million outpatient visits a year and in fiscal year 2018 it provided more than $1.02 billion in uncompensated care.
The safety-net hospital and the 20 community clinics it operates rely heavily on funding from Medicare and Medicaid, charities and property taxes to sustain its operations. Adequate revenue sources are crucial to the operation of the 125-year-old Parkland system.
With that as a backdrop, two teams of Texas Woman's University Health Systems Management students this year embarked on a plan to help boost Parkland's bottom line.
The teams put together a plan aimed at creating a training manual to help managers become more aware of fiscal matters that could affect everything from stocking supplies to ordering lab tests.
"Every dollar we save is a dollar we can put back into patient care," said Andrew Norton, Parkland's director of finance operations.
In a conference room at Parkland's administrative offices in May, the two teams from Texas Woman's presented their findings to Parkland officials. The 25-minute presentation included a PowerPoint with charts and graphics supporting their premise that Parkland should be doing more to train its clinical managers about finances.
"This is very well done," said April Audain, Parkland's vice president and administrator of finance operations, immediately following the presentation. "We didn't have the bandwidth to do this on our own, so this is fabulous."
Audain, Norton and Tabitha Lee, the hospital's administrative director and controller, promised to share the presentation with other hospital officials. So how is it that a team of master's degree candidates could come up with such a bold plan to help bolster operations at the venerable hospital?
The answer is part process and part resource, said Pat Driscoll, a professor of health management at TWU who has been overseeing the Capstone, which has been part of the dual-degree program for the past 20 years.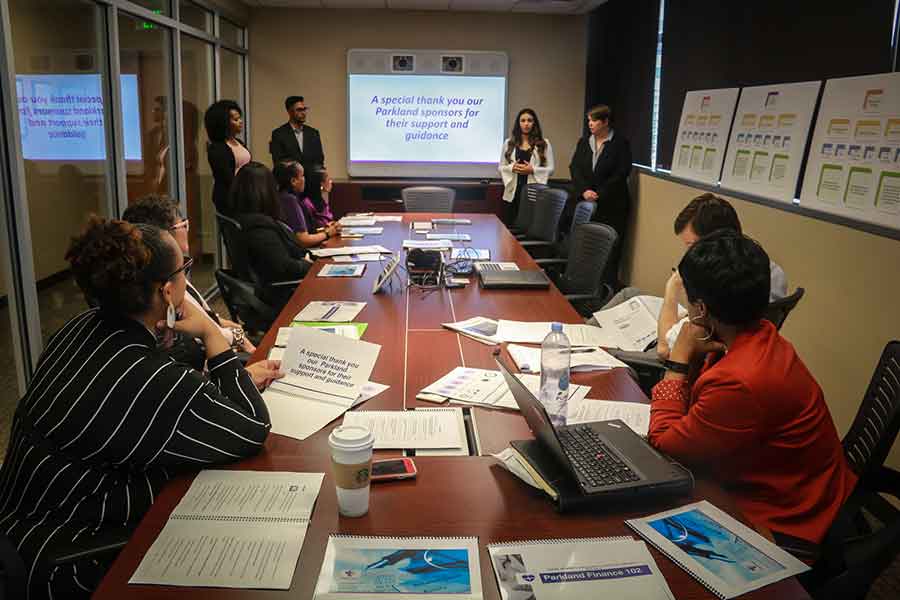 "While there is tremendous rigor in the program, these students gain an extraordinary amount of knowledge from experts in the field and accomplished TWU alums who offer their expertise and critiques," Driscoll said.
Students who are successful in the program – one of only three in the state – graduate with an MBA and a master's degree in health systems management.
Hundreds of students have graduated from the program since its inception, with many of them going on to successful careers at some of the most prestigious health care entities and consulting companies, among them the Mayo Clinic, Ernst & Young and PricewaterhouseCoopers. Three of the program's alums have served as CEOs at Baptist Medical Center in Jacksonville, The Woman's Hospital of Texas in Houston, and Medical City Lewisville.
And it is the capstone project that provides students with an experience no textbook can match. The projects, which are undertaken at health-related organizations and entities, often lead to greater efficiencies and cost savings. More than 400 projects at 10 health entities—among them Texas Health Resources, Baylor Scott & White, UT Southwestern and Aetna – have been completed in the past 20 years.
One project identified $5.2 million in recoverable losses in a managed care account; another resulted in a savings of more than $200,000 a month for a health provider following a review of a supply chain. Still another identified $460,000 in savings after the team developed an inventory management system for a health service entity.
"The capstone experience was one of the most rewarding and challenging experiences of my career," said Melody Hargrove, who participated on one of the student teams for the Parkland project. "I gained invaluable knowledge and experience working with the local county hospital in order to develop something meaningful for the future of healthcare."
Driscoll said the capstone project benefits students and the health entities they serve because the student gains valuable knowledge and experience and the health institution benefits from a plan that will increase efficiencies and save money.
"It's truly compelling to see the work of our students translate into something so positive that benefits our community," Driscoll said.
Media Contact
Matt Flores
Assistant Vice President, University Communications
940-898-3456
mattflores@twu.edu
Page last updated 3:13 PM, June 7, 2019