TWU student wins top prize in national art contest for people with disabilities
Hannah Werchan's winning painting, "Growth," is an impressionistic self-portrait that conveys her experience living with Stickler Syndrome, a rare connective tissue disorder.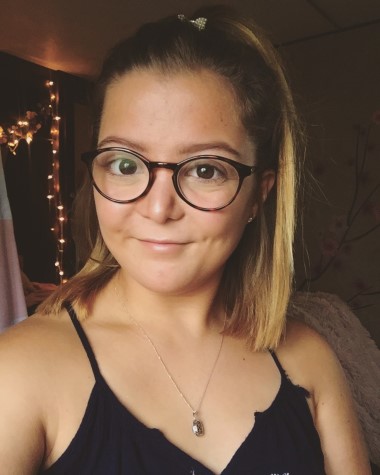 August 28, 2018 – DENTON – Hannah Werchan, a 22-year-old senior art student at Texas Woman's University, won first prize and $10,000 in the Kennedy Center's 2018 VSA Emerging Young Artists Competition, a program that recognizes and showcases the work of artists with disabilities between ages 16-25. Her winning painting, "Growth," is an impressionistic self-portrait that conveys her experience living with Stickler Syndrome, a rare connective tissue disorder.
Werchan, along with the other 14 recipients, will travel to Washington, D.C., in early September for a three-day professional development workshop and reception. Her winning artwork will be exhibited in a year-long national tour beginning September 5 and ending in November 2019.
"Growth" is part of Werchan's current self-portrait series, "Stickler Syndrome." The paintings depict the physical characteristics and symptoms of the disorder, which include congenital defects such as hearing loss, blindness, mid-facial hypoplasia, bone and joint abnormalities, and chronic pain. Stickler Syndrome is a hereditary and progressive disorder, in which each symptom is presented at birth and will continue to worsen with age.
There is no cure for Stickler Syndrome, and symptoms typically are treated through a combination of surgeries, therapy and pain management. "After 21 surgeries, I wanted to raise awareness about this rare disorder, which the majority of my doctors have never even heard of. I find art to be a powerful and dynamic medium to showcase these aspects surrounding Stickler Syndrome," Werchan said. "Through the means of art, I am able to express the experience of being deaf in a hearing world, or the feeling of chronic pain amongst my able-bodied peers. This series is an attempt to shed light on the day-to-day experiences of a person living with Stickler Syndrome and the patience, endurance and resilience it demands."
Hannah Werchan's 'Stickler Syndrome' Series
Werchan draws inspiration from impressionism masters Edgar Degas, Vincent van Gogh, Mary Cassatt and Claude Monet, whose own experience with cataracts and vision loss are believed to have had a significant influence on the impressionist movement.
Werchan grew up in Tyler. Due to her high risk for retinal detachments, she was often unable to participate in normal childhood activities, such as contact sports and horseback riding. "Because I was very limited with what I could do, my alternative was to get involved in the arts. I used theater and music as a means of speech therapy for many years, and I still enjoy both despite losing my hearing. I was very drawn to the visual arts, and once I started formal drawing lessons in my junior year of high school, I fell in love and decided to further my arts education in college."
Werchan is currently pursuing her bachelor of fine arts degree in art with a concentration in painting and drawing, and she plans to graduate in May 2019. Her TWU painting professor and adviser, Gary Washmon, said that Werchan is a model student. "She is very demanding of herself and always sets the bar very high, producing artwork that is powerful, personal, and always executed with great deal of skill and care," Washmon said, adding: "Hannah has an amazing, positive attitude and is very brave and open in dealing with her disabilities in her work."
Julie Libersat, assistant professor of studio art at TWU, said Werchan has an outstanding work ethic and excelled in her computer-based art class. "I was so impressed with Hannah's professionalism and grateful for the extra work she took to communicate and educate others about living with multiple disabilities. She expresses this through her artwork and through opportunities during class discussion, advocating and sharing her experience as an artist, facing several physical barriers. As a class, it was an opportunity to reconsider how we can better design for differently abled audiences as well as appreciate the varied experiences of creating with different abilities."
After graduation, Werchan plans to enroll in graduate school, and ultimately to teach art at the high school or university level.
About the VSA Emerging Young Artists Competition
The 2018 VSA Emerging Young Artists Competition, a Jean Kennedy Smith Arts and Disability Program of the Kennedy Center, drew submissions from talented young artists with disabilities from around the U.S. This year's theme, around which the artists were challenged to create work, was to embrace life's detours, to seize and explore the spontaneous forays off the beaten path, to consider what's possible, and to celebrate the marvelous and unexpected. The winners, selected from a pool of hundreds of applicants, were chosen based on the quality of their work, artistic proficiency, and enlightening or compelling interpretations of the theme.
###


Page last updated 2:38 PM, May 24, 2022