TWU Houston celebrates opening of Student Food Market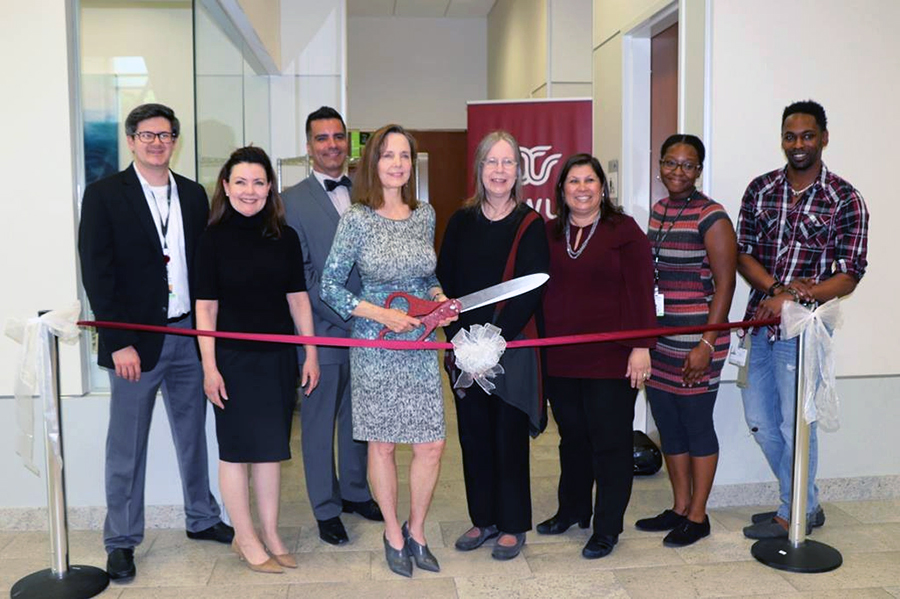 March 27, 2018 - Houston - With a goal of supporting students holistically, Texas Woman's University Institute of Health Sciences in Houston celebrated the opening of the TWU Student Food Market March 19, 2018. The Student Food Market—a joint venture between the university and the Houston Food Bank, the nation's largest food bank in distribution— provides perishable and non-perishable food twice monthly to food insecure students.
"We've always provided snacks for our students during the week. About two years ago, I started watching the way the students would eat and it became apparent that some were using these snacks as a meal. So I conducted a survey of our students regarding possible food security issues," said Deb Unruh, Assistant Director for Student Life at TWU. "What I found was that of the 140 students I surveyed, 25 percent were experiencing food insecurity."
After successfully operating a food pantry with only non-perishable, canned food items and seeing the number of participating students increase, Unruh decided more needed to be done. She reached out to TWU Nutrition and Food Sciences professor, Carolyn Moore, Ph.D., who took up the challenge.
"When I learned about the statistics, that a quarter of our students were going without or with little, I knew they needed more than just canned goods. I serve on the Board of Directors of the Houston Boys and Girls Clubs and had visited their Texans food pantry which I thought would be a good model to follow," said Moore. "We reached out to the Houston Food Bank, and they were eager to work with us."
In addition to establishing a partnership with the Houston Food Bank, Moore and her husband also helped fund the project, including renovations of an existing space on campus and the purchase of two new refrigerators, a deep freezer, rolling carts and tote bags through their foundation, the Carolyn and Matt Khourie Foundation.
"Texas Woman's University has a unique population, with mostly graduate students and many with families. That alone was intriguing to us. It's also the first time we've had a food market in the Texas Medical Center," said Reginald Young, Director of Food for Change, which oversees the Food Scholarship Program at the Houston Food Bank.
The Food Scholarship Program is an initiative born out of growth. In 2012, as the Houston Food Bank reached a new plateau of allocating more resources in the community than ever before. However, what they weren't seeing is change or improvement in the lives of the clients they served.
We needed to take a different approach, talk to the community, work with our partners, dive into the lives of our clients and find out what issues were impacting them and keeping them from moving ahead," said Young. "What we learned is that clients were dealing with so many issues outside of food that unless we dealt with those issues, there would be no change."
Working to strategically distribute food, the Food Scholarship Program was born to meet university students where they are and by doing so, program organizers hoped to increase the retention rate of students. If these students can allocate their food budget toward other things such as school costs and supplies, they might have a better chance of being able to complete their degrees and eventually no longer need the Food Scholarship Program.
"We are tracking the participation of our students at TWU over the next two years. It's hard to identify if our program will help improve grades scholastically because of the many factors involved, but we do think it will help with retention in the graduate programs. Less pressure to pay for food allows more time to focus on studies," says Moore. "Of course, we will be sharing the information from our study with the Houston Food Bank. We're hoping we'll become a model for other universities in Houston and in Texas, and, really, all across the U.S."
The Houston Food Bank is hoping that's the case, too. To date, the organization has food markets running on three local campuses – TWU, University of Houston Downtown and San Jacinto Community College – with six more already in the planning stages. However, TWU is the first one to conduct a research study as part of the program.
"So many universities seek financial contributions. Well, I can't give them money, but I have millions of dollars in food resources I can allocate for their student populations. And, food plus education can lead to sustainable outcomes," says Young. "That's what we're looking for. Does this resource have an impact on helping students complete the program? Does it change their educational experience? Does it help them increase their earning potential? If it works in this setting, then other food banks and universities can employ these best practices throughout the country."
Unruh says she is already seeing a difference among those students enrolled in the program. There's a bounce to their step, relief in their eyes. And the 100 pounds or so of food being given out each month is not just going towards the stomachs of the students but often, whole families are benefitting from the program.
"It's a privilege to be able to help provide stability in the day-to-day lives of these students, of these families. It's affecting the flow of activity and the way they live their lives. Perhaps now they can take the money they would have spent on food and build a nest egg for unexpected expenses including those brought on by Hurricane Harvey," she says. "So many here are pitching in, helping with the massive deliveries, separating and bagging up the food, making sure it remains at the right temperature, finding correlating recipes for the food received. It's a lot of work, but it's a gift for our TWU community. It has strengthened us as a family."
Media Contact
Page last updated 3:50 PM, March 27, 2018