Texas Woman's music professor earns third Fulbright grant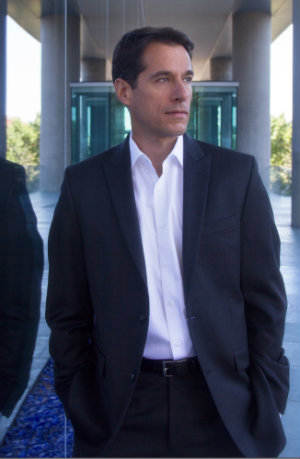 June 14, 2018—DENTON, Texas—Texas Woman's University Music Professor Richard Shuster, DMA, has a special attachment to Hungary and, in particular, with the Franz Liszt Academy of Music in Budapest. In January 2019, he will head to the academy to teach piano literature courses on a Fulbright Scholar Grant. This isn't his first experience at the school or with the Fulbright program, however. Twenty years ago, Shuster studied piano and chamber music at the prestigious school on a Fulbright Student Grant.
"My student Fulbright experience profoundly expanded my perspective on music making and helped shape me as a musician and person," Shuster says. "I was drawn to the Liszt Academy because of my love for Hungarian music."
This fondness led Shuster, who has been a faculty member at Texas Woman's University since 2002, to create a two-week study abroad course in Budapest for TWU students last summer. While attending lectures at the Liszt Academy on this trip, several colleagues invited him to apply for the Fulbright grant so he could come back and teach courses.
The grant enables Shuster to live in Budapest for the full spring semester. As a Fulbright Scholar, Shuster sees this time in Budapest as an opportunity to give back by drawing on his background and experience as a professor, performing pianist and recording artist.
"Fulbright makes it all possible," according to Shuster. "You are not just there to teach, but you're there to exchange ideas. I'm representing the United States and Texas Woman's University. I'm there to give a different perspective and also to learn."
Fulbright offers several scholarship programs in support of its mission to promote international educational exchange. Shuster knows first-hand about the variety of programs offered as this will be his third experience as a Fulbright scholarship recipient.
In addition to his time in Hungary, he spent a month at St. Paul University in Manila, Philippines on a Fulbright Specialist Grant, teaching, performing and consulting on curriculum development in 2016. Shuster believes each one of these exchange opportunities changed him, and he teaches and interacts with students at TWU differently upon his return.
"That's what it's about," he says. "The Fulbright exists for collaboration and intercultural exchange-all that energy and focus on learning about each other's cultures and what makes us unique and different. I think now, more than ever, we need that. Just imagine that after 60 years [since Fulbright started], the amount of positive impact that has been made."
The Fulbright program, sponsored by the U.S. Department of State, is highly competitive. Participants, who are chosen for their academic merit and leadership potential, are given the opportunity to study, teach and conduct research, exchange ideas and contribute to finding solutions to shared international concerns. For more information, visit https://eca.state.gov/fulbright
Media Contact
Deanna W. Titzler
Director of Public Relations
940-898-3252
dtitzler@twu.edu
Page last updated 11:02 AM, June 18, 2018