Sophomore elementary education major, Lindsay Allen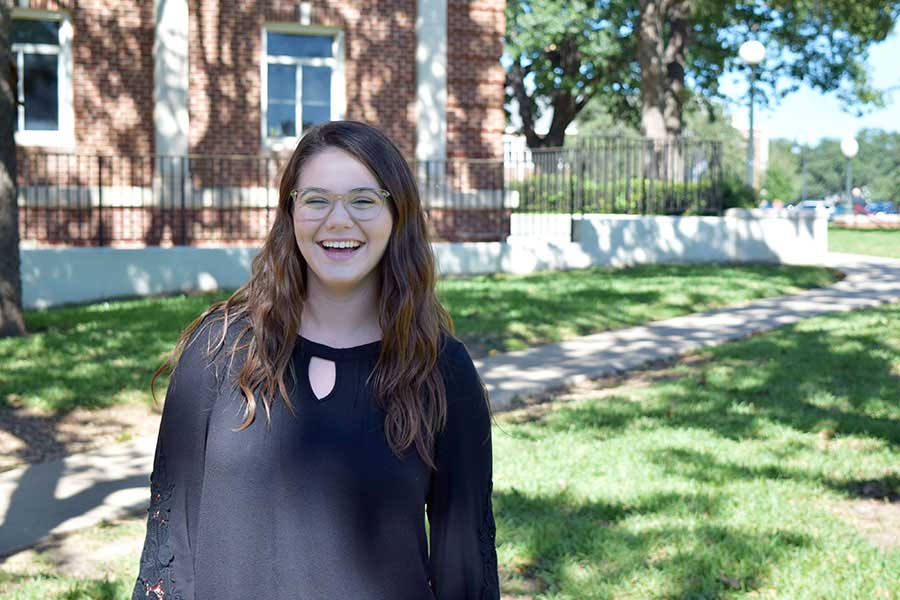 Lindsay Allen remembers her application process as a prospective high school student very well. One of the first things the Fort Worth native noticed was that each professor and staff member she met with was friendly, encouraging, and they genuinely cared about her and her education.
Throughout the college search process, she noticed that other universities she visited made her feel as though she would be lucky to go to their school. Instead, TWU told her about the quality education she would experience and she was made to feel that TWU would be lucky to have her.
Now as a student at TWU, Lindsay found that students matter and the university creates a positive and safe learning environment for students to prepare for future careers but also to grow and improve as a leader and global citizen. She has noticed how the diversity of the campus community provides new, culturally relevant perspectives on class experiences and on life in general.
Lindsay plans to be an elementary school teacher and TWU enables her to learn by doing. She has already volunteered at a local elementary school, which confirmed her heart for children and passion for teaching while giving her a behind-the-scenes look into her future career. With a heart for service, it has been fulfilling for her to volunteer and give back to her community.
As a future alumna, Lindsay now understands the education she receives from TWU is a source of pride, and it will be something she will boldly share with anyone willing to listen.
Lindsay sees each day how TWU has already had a positive, lasting impact on her life through her learning environment. Her peers, professors and the whole community provide her constant inspiration to serve, to give back and to boldly go.
She is confident that no one can come away from an educational experience at Texas Woman's University and not be changed for the better.
Story by Adam Hengeveld
Media Contact
Staff Reporter
940-898-3456
Page last updated 1:41 PM, October 1, 2021