Nothing but home runs for TWU Nutrition alumna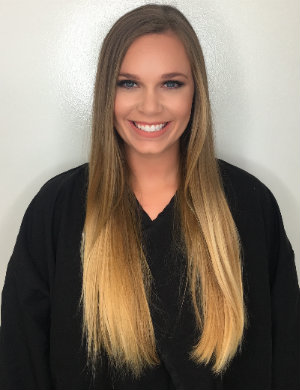 May 29, 2018 - Lindsay Oar (MS '17) discovered the perfect way to merge her two passions — sports and nutrition — with an Exercise and Sports Nutrition degree from Texas Woman's that led to a position as assistant sports dietitian (RDN) for the Texas Rangers professional baseball organization.
In Oar's last semester at TWU, Texas Rangers dietitian Stephanie Fernandes contacted TWU's Sports Nutrition program looking for interns to help with mini-camps in the off-season. Nutrition faculty members Nancy DiMarco, PhD, and Keri Stoner-Davis immediately thought of Oar.
"Lindsay is very outgoing and personable, but tough," says DiMarco. "A sports dietitian at the professional sports level has to be no-nonsense, and that's Lindsay."
Already an RDN, Oar joined Fernandes as part of the practicum rotations needed to complete her degree program.
And she loved every second of it.
Naturally, when she learned the Rangers were searching for a new assistant RDN, she applied for the position and turned her internship into a dream job.
"I cannot thank TWU enough for giving me the education I needed to become successful," she says. "The dietetic internship was packed full of enriching rotations with the best preceptors and mentors I could ask for."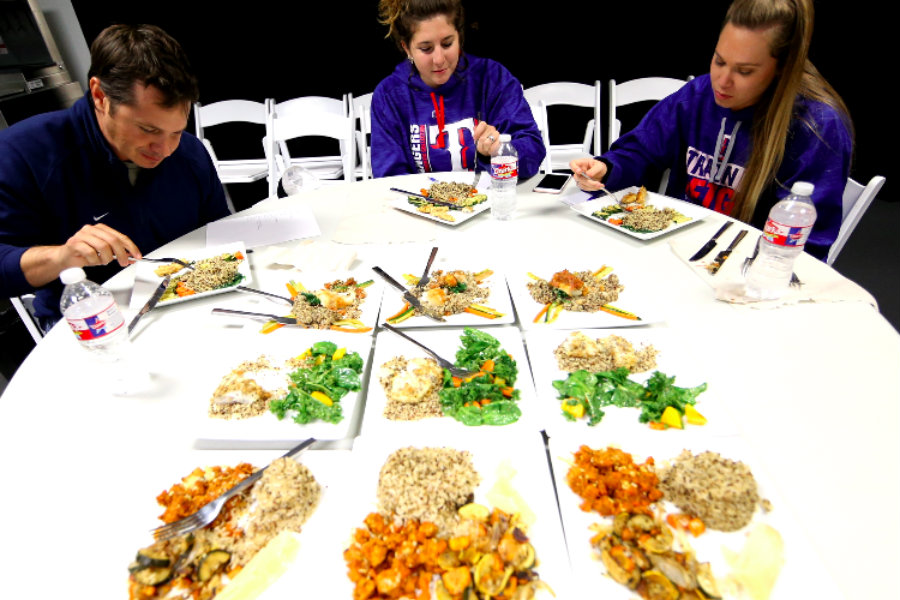 Now Oar spends every day working with the Rangers' minor league affiliate teams, planning and coordinating meals for the players. Every month, she flies out to visit the teams based in North Carolina and Washington to work one-on-one with players who need help reaching their goals for the season.
Oar also conducts cooking demos and presentations to educate players on how proper nutrition can boost their performance. This gets them ready for the long-game as minor league players develop good habits before potentially moving to the major league.
While most of her time is spent with minor league players, Oar also supports the Texas Rangers major league team at the beginning of the season and helps create educational material with Fernandes that is used with both the major and minor league athletes.
"I spent 45 days in Surprise, Arizona, for spring training to prepare for the season, and it was a blast," Oar said.
Practice makes perfect
While at TWU, Oar also interned with area sports RDNs, worked on campus in the Pioneer Performance Clinic and off campus at EXOS, a Frisco-based fitness company that works with athletes to boost performance.
TWU helps students get real experience such as these through practicum affiliation agreements with organizations such as Ben Hogan Sports, Michael Johnson Performance Center, FC Dallas, Texas Rangers, EXOS Sports, Mercedes Benz Fitness Center and others. In many cases, such as Oar's, these practicums lead to jobs after graduation.
"Our program allows students to choose based on their interests from corporate fitness and wellness, team sports, individual sports and professional or collegiate sports," says DiMarco.
Oar also gives credit to DiMarco and Stoner-Davis for helping her come into contact with local sports RDNs to gain hands-on experience and earn hours toward certification as a Board-Certified Specialist in Sports Dietetics (CSSD).
"They are truly mentors and have helped to set up my future for success," she says.
In the future, Oar aims to earn her CSSD certification and work at the collegiate or professional level in the field of sports nutrition. For now, she will continue helping the Texas Rangers organization improve—one meal at a time.
Page last updated 10:52 AM, June 11, 2021