Jessica O'Brien, Occupational Therapy Student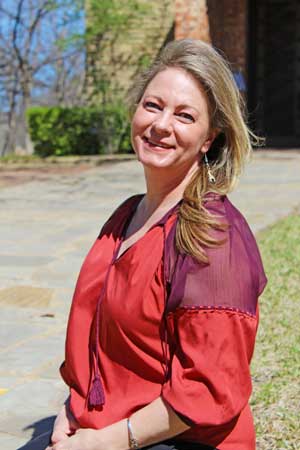 Jessica O'Brien spent the early part of her career as an OT assistant. She then decided to uproot her life in Utah to move to Denton in pursuit of her advanced occupational therapy degree. With a heart the size of Texas, she is a perfect fit for the program and TWU.
"I chose TWU because of the program and the university's reputation," Jessica shared, and added that the positive influence of an alumnus, a previous field work supervisor in Utah for her associate's degree, helped, too.
Driven by personal experiences in her life, Jessica sees OT as a way to fuse not only a career but a life's passion of helping others. Since moving to Denton she regularly volunteers at a homeless shelter and the local community health clinic. She believes the health sciences help patients not only with physical developments, but also their mental health. Jessica said, "I see OT as a way to help me give back and pay it forward."
From her time volunteering Jessica saw a great need within the Denton Community Health Clinic. At that time, the Clinic had lost some critical funding and feared it would need to close. They were looking for additional funding, but also, for ways to continue certain services. Jessica learned about the Experiential Student Scholar program and realized that she could assist the Clinic while also gaining invaluable practical experience.
Jessica teamed up with an OT professor, Dr. Claudette Fette, for a project at the clinic to serve patients and evaluate the possibility of having other TWU OT students serve patients of the Clinic in the future. Jessica boldly dreams of an ongoing partnership between the students of TWU's School of Occupational Therapy and the Clinic. She envisions the significant benefit it would bring to the Clinic's patients, and to the OT students as well. The challenge, however, is the financial cost of having a licensed therapist to oversee the students' practical experiences.
Jessica is looking forward to completing her degree in occupational therapy in December 2018 and is currently completing her fieldwork in Idaho.

In 2017, the profession of occupational therapy celebrated 100 years, and it also marked the 75th anniversary of the inception of the program of study at Texas Woman's University. The department is now home to one of only three Occupational Therapy Ph.D. programs in the entire nation.
The dedicated faculty and staff of the program look forward to many more years of guiding students to fulfilling careers of boldly providing compassionate care for others.
Story by Adam Hengeveld; Photo by Chelsea Mullin '16
Media Contact
Staff Reporter
940-898-3456
Page last updated 1:32 PM, October 1, 2021