Federal banking official addresses fall graduates at TWU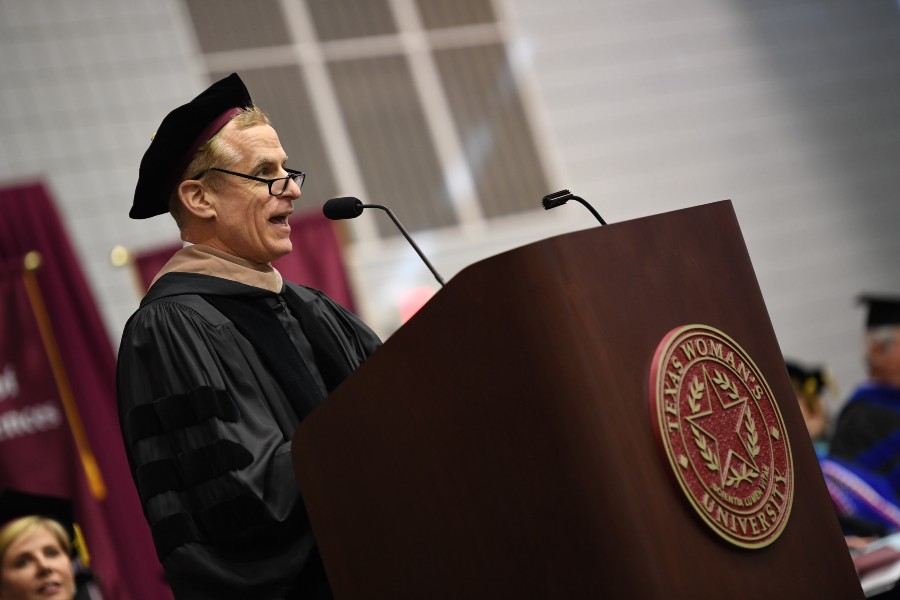 Dec. 15, 2018 — DENTON — Identifying one's own strengths and weaknesses is an exercise that must be practiced over the course of a lifetime to achieve success, said Robert S. Kaplan, president and CEO of the Federal Reserve Bank of Dallas.
Kaplan was one of five speakers who addressed Texas Woman's University graduates during fall commencement exercises which concluded Saturday. More than 1,400 degrees were awarded at four ceremonies in Denton and one in Houston.
A former Wall Street investment banker and senior associate dean at Harvard Business School, Kaplan addressed business and nursing school candidates during a Saturday morning ceremony. He noted that graduates must take ownership of their lives and be prepared to learn from mistakes. To achieve that, individuals must constantly take stock of their strengths and weaknesses.
"Each of us have blind spots. You need to seek advice from people who observe you and cultivate those people --- and those people particularly who care enough about you to tell you things you don't want to hear but you absolutely need to hear," Kaplan said.
Among several imperatives to becoming successful, Kaplan said individuals must add value to someone else; be willing to understand other points of views, particularly those that differ greatly from their own; do things for others without regard for what is in it for themselves; and build relationships.
"Networking is great, but it is not a substitute for relationships," Kaplan said. "Relationships have to be developed face to face, they can't be done with devices, they can't be done remotely and they can't be done by text. Don't send a text when you should make a phone call. Don't make a phone call, when you should meet someone in person."
TWU ceremonies were recorded and are viewable at the following link: https://www.twu.edu/registrar/graduation-and-commencement/livestream-commencement/
Media Contact
Matt Flores
Assistant Vice President, University Communications
940-898-3456
mattflores@twu.edu
Page last updated 11:41 AM, March 1, 2019