Family Graduation Celebration wins international award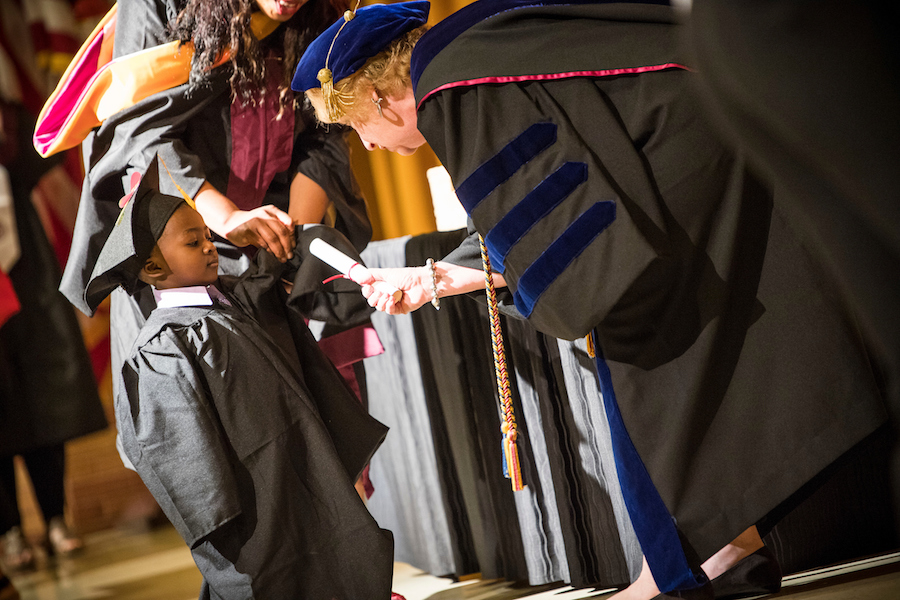 Apr. 3, 2018 — DENTON — The Association of College Unions International (ACUI) recently recognized Family Graduation Celebration at Texas Woman's University as the 2018 Collaborative Program of the Year. The university's Student Union and Campus Alliance for Resource Education worked with ten other collaborative partners to create this unique experience for students and their families.
On-hand to receive the award on behalf of TWU were Anna Kessenich, Associate Director of Student Union Programming, and David Sweeten, Director of Student Union and Conference Services. "It was great to see Texas Woman's University recognized at ACUI's annual conference. With participating student unions in all 50 states and nine countries around the world, I was very proud," said Sweeten.
Family Graduation Celebration recognizes the family's role in students' academic journeys and success. When children arrive at the event, they are fitted with their own caps and gowns, which they personalize with stickers. Then the student and their children walk across the stage to receive a family "diploma" and take a photo with TWU Chancellor and President, Carine Feyten, Ph.D.
Graduates like Megan Alvina believe that the celebration not only reinforces the importance of education to her children but it also demonstrates that TWU understands the sacrifices that come with being a student parent.
"Family Graduation allows me to take my family on the entire journey with me and celebrate not just me finishing my goals, but celebrating them as the strongest supporters I have," said Alvina.
In keeping with the tradition, Texas Woman's University will hold two Family Graduation Celebrations this year—one in Denton and another in Houston—to recognize the challenges and accomplishments of being a student and a parent.
The Denton celebration (for students attending Denton and Dallas campuses) will be held on Saturday, April 28 in Hubbard Hall Southeast Ballroom. Registration begins at 10 a.m. with the diploma ceremony at 10:30 a.m.
The Houston celebration will be held on Wednesday, May 9 at the TWU Institute of Health Sciences, room 2120. Registration begins at 6 p.m. with the diploma ceremony starting at 6:30 p.m.
Media Contact
Amy Evans
Director of Student Life Communications
940-898-3607
aevans18@twu.edu
Page last updated 4:34 PM, April 3, 2018