Deyaun Seale, Health Care Administration student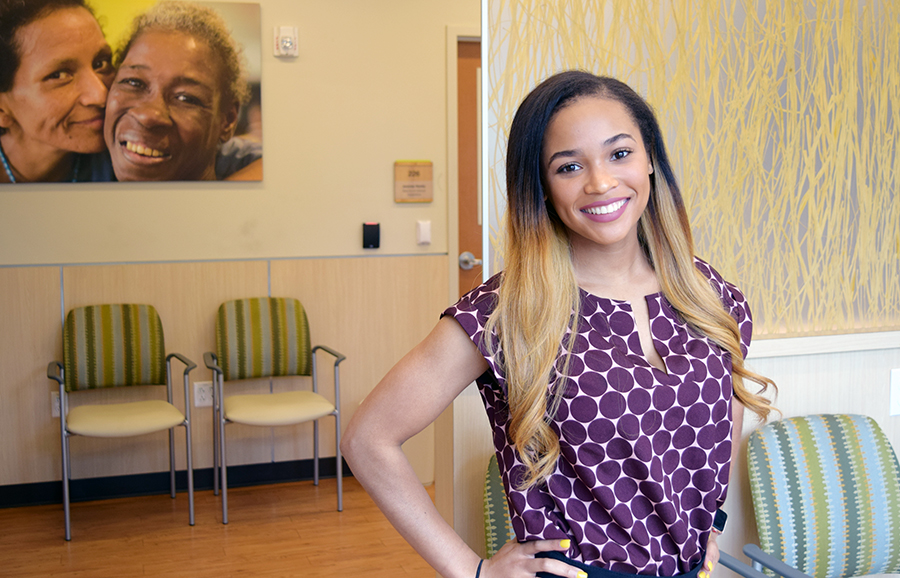 Deyaun Seale currently pursues a master's degree in health care administration at the Houston campus of Texas Woman's University.
She saw no better environment to learn her field than at TWU after she decided she wanted to pursue a career in health care. TWU-Houston is perfectly situated in the midst of the action at Texas Medical Center, a sprawling hub that is home to some of the nation's most prominent medical centers and research facilities.
Deyaun also has the unique ability to approach problems creatively. As a quality assurance administrator for Health Care for the Homeless in Houston, she is charged with sending reports on quality measures to a funder. When she was selected as an Experiential Learning Scholar she decided to "learn by doing" and apply her research to find ways to improve the clinic's quality measures. With mentoring from Dr. Anne Selcer, she developed a system for improving health care quality and employee engagement through gamification. The project infused a little fun and incentive to increase engagement of the organization's medical assistant staff.
The success of her ongoing project opened the opportunity to present at an Association of University Programs in Health Administration (AUPHA) conference recently.
TWU's strategic focus on experiential learning supports students to apply the concepts from courses in the "real world." In addition to the mentorship, the program even supports students by providing funding reasonably necessary for the project's success.
Deyaun finds motivation from her family. Her mother, a cancer survivor currently pursuing a degree for a career change, is an example in perseverance and encourages her to attain her goals. She said, "I want to be a valuable asset to every company I work for. I want to be sought after; I want to have what leaders look for to make their company successful."
With a heart for serving others, Deyaun is even contemplating pursuing a degree in nursing as well. Her goal is to become a well-rounded health care professional, experiencing both the administrative and clinical sides of the field.
Deyaun is an example of the drive, aspiration and determination at the heart of TWU students. And she is cut from the same cloth as generations of bold pioneers before her.
Story by Adam Hengeveld
Media Contact
Staff Reporter
940-898-3456
Page last updated 11:52 AM, October 1, 2021