TWU to dedicate math and technology center in honor of Don Edwards, Ph.D.
Apr. 11, 2019 —DENTON—Texas Woman's University will rename its math tutoring center in honor of retiring TWU Department of Mathematics and Computer Science professor and chair, Don Edwards, Ph.D.
The "Dr. Don Edwards Mathematics & Technology Success Center" dedication ceremony will take place during a retirement reception at 3 p.m. Tuesday, Apr. 23 on the third floor of the Multipurpose Classroom and Laboratory Building.
During his 36 years of service to the university, Edwards has mentored countless graduate and undergraduate students, placing particular emphasis on encouraging more women to enter STEM fields.
"The dedication of this center is a testament to Don Edwards' commitment to the success of his students, and to his exemplary record of leadership and achievement in the areas of teaching, scholarship and service," said Abigail Tilton, Ph.D., Dean of the TWU College of Arts and Sciences.
About Don Edwards, Ph.D.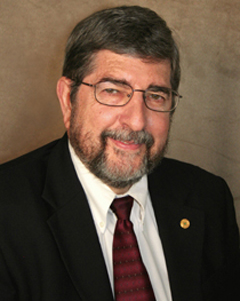 After earning his Ph.D. at Texas Christian University, Edwards had a distinguished career with Texas Instruments and Sun Oil Company. His love for teaching led him to work at the University of North Texas and the Dallas Community College District before he joined TWU in 1983.
At TWU, Edwards mentored and taught undergraduate and graduate students in the TWU Department of Mathematics and Computer Science, where he was recognized as an outstanding professor by student organizations. Edwards had a leading role in developing and coordinating new programs for TWU, including the Bachelor of General Studies Program, the Dual Degree in Mathematics and Engineering Program, and the Informatics Program, all of which have thrived since their inception.
Edwards has been a guiding force for the Student Creative Arts and Research Symposium, which draws hundreds of undergraduate and graduate students each spring. He also established community outreach programs such as the TWU Edible Car Contest, now in its 21st year, and was instrumental in the growth and success of the TWU Science Fair, now in its 30th year. Both events engage North Texas-area grade school students creatively while encouraging young women to enter STEM fields.
Additionally, Edwards has served as the university's faculty delegate to the NCAA for many years. In 2014, TWU honored him with the Humphries Award for Dedication as recognition of his loyalty to the profession and to the institution.
About the Dr. Don Edwards Mathematics & Technology Success Center
Under Edwards' support and guidance, the humble beginnings of a tutoring center were first established in a small room in CFO. The room could accommodate only four students but it was the first formal effort to provide a space and service for students seeking assistance with math and computer science. The need was great and ultimately, the center as it is known today was established in MCL. The center offers many opportunities for students to enhance their learning, make inquiries and have access to tutors for personalized assistance. Students also have access to formalized group supplemental instruction for selected mathematics courses. The TWU Supplemental Instruction/Tutoring Program was awarded four grants by the Texas Higher Education Coordinating Board (THECB) and in 2015 received the Recognition of Excellence award from THECB.
Today, the center continues to draw students from multiple disciplines and is a testament to the commitment of Edwards' efforts on behalf of student success.
###
Page last updated 10:05 AM, April 11, 2019