TWU names founding dean of new College of Business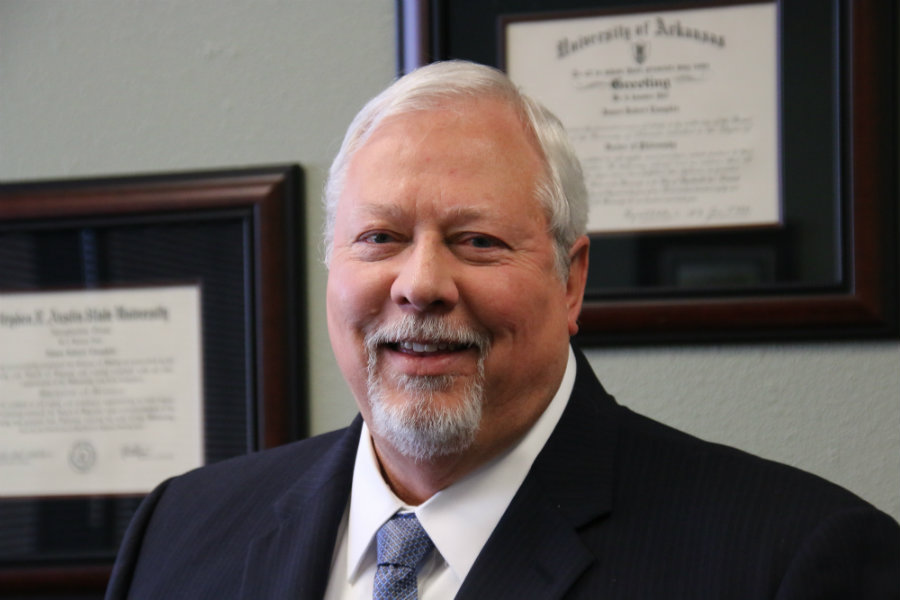 March 29, 2018—DENTON—Texas Woman's University officials today announced James R. Lumpkin, dean of the Soules College of Business at the University of Texas at Tyler, will become Founding Dean of the university's new College of Business, effective July 1.
"Dean Lumpkin brings an outstanding academic and leadership track record to Texas Woman's University, from his significant research experience to building high-demand programs and robust student enrollment," said Alan Utter, Ph.D., provost and vice president for academic affairs. "We're also thrilled to gain someone who is a collaborator, catalyst and entrepreneur. Among his strengths, he has considerable health care knowledge and experience that can help us advance our university's long-standing legacy in health including nursing, physical therapy and occupational therapy, speech language pathology, nutrition, kinesiology and health care administration."
Lumpkin has served more than 18 years as a business dean at three universities (Bradley, Oklahoma State and Louisiana Tech) prior to his current role at UT-Tyler. He's published more than 120 journal articles and papers, including numerous articles on healthcare. In addition, he has served on two hospital boards, initiated two healthcare administration programs and was named a "Distinguished Fellow" of the Academy of Marketing Science.
Since 2014, Lumpkin also has been a member of the Texas Education Coordinating Board's Graduate Education Advisory Council.
"I look forward to working with faculty, students and university leaders to build a regionally and nationally distinctive College of Business at TWU, the nation's largest university primarily for women," said Lumpkin. "There are many things that I find energizing about my new role-from working with colleagues to help optimize the new Center for Women in Business to engaging with the state's booming business community, thriving medical centers and health-related industries."
Lumpkin added that he cares deeply about student success, and noted in his past roles he has expanded career services and internships, as well as improved student advising.
"I'm really impressed with the level of engagement of TWU students," he said. "A perfect example is the College's Enactus team, which in 2016 was among the top 20 teams nationally for creativity, innovation and effectiveness in creating economic opportunities for local area nonprofits and companies."
The new TWU Founding Dean, who served as staff sergeant in the Arkansas Air National Guard in the 1970s, also worked in a variety of marketing research and management roles for Phillips Petroleum Co. and as partner in his own consumer marketing research consulting firm in Denton.
Lumpkin earned a B.S. degree with a major in chemistry and minors in math and management, and an MBA from Stephen F. Austin State University. He also holds a Ph.D. in business administration from the University of Arkansas.
Media Contact
Deanna W. Titzler
Director of Public Relations
940-898-3252
dtitzler@twu.edu
Page last updated 9:52 AM, March 29, 2018