TWU's Grief Choir begins its healing work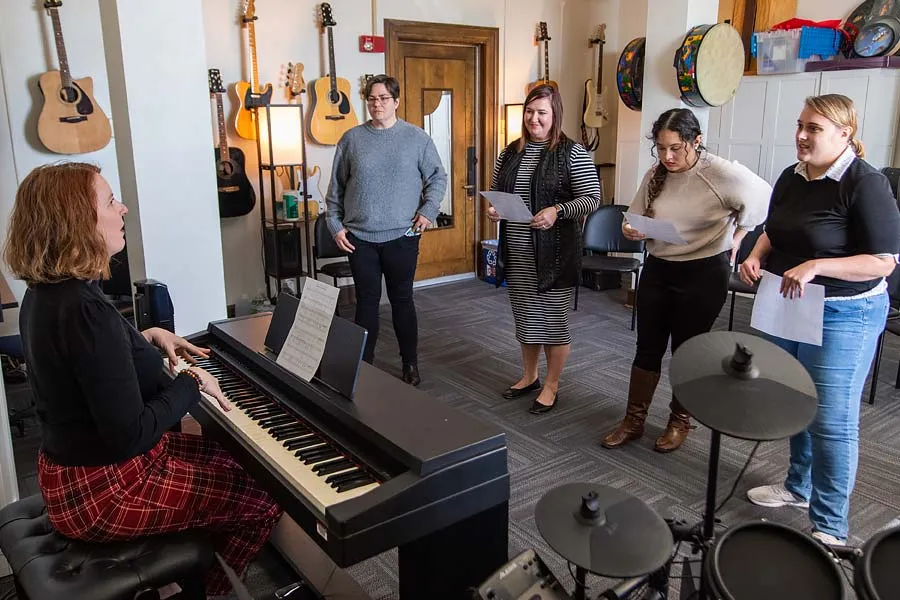 Feb. 6, 2023 – DENTON – When music major Karina Colon told her parents she was going to be a part of Texas Woman's University's first grief choir, their first reaction was excitement. That was quickly followed by a question.
"They said, what's a grief choir?"
Good question. If you run the phrase "grief choir" through Google, you won't get many results. Mostly what comes up are the same two names: Lauren DiMaio and Anne Wilkerson.
"Anne was my music therapy sister," DiMaio said. "It came from me and Anne. I was doing bereavement and I thought, how can music therapy be more part of the bereavement side of things? How do people grieve musically? I listened to a lot of people grieving, and I needed to have music be a part of this in a very meaningful way."
DiMaio and Wilkerson did pioneering work in the concept of a grief choir when they worked together in hospice care in Asheville, N.C. When DiMaio joined the music department at Texas Woman's University, that partnership ended but grief choir did not.
"We needed a place for practicum students," said DiMaio, who is an assistant professor of music at TWU specializing in music therapy. "We don't have enough places. And if I'm going to do practicum, I might as well do something I really care about. I wanted to make friends with the hospice music therapists around here, and so I called one of the hospices that had a music therapist. So that's how it started."
TWU's Grief Choir will open at 1 p.m. on Thursdays now through Apr. 27 to members of the public who are grieving someone who died. The choir will meet in the Music Building, and is free to participate.
The project is overseen by DiMaio, who has a bachelor's, master's, and PhD in music therapy and has been working in the field for 21 years.
"American society is not good at how we treat our grievers," DiMaio said. "After one month, really, you're just expected to get over it, have it together, and then people forget after the service that you need to still check in on people. For the first year, it's misery for most people to relearn how to live. The expectation that people should just get over it, especially be back at work and holding it together whenever someone like your life partner or someone super close just passed, is unreasonable, and it's an expectation that's culturally normal."
But music, in the words of Bing Crosby, is positively therapeutic. Who hasn't heard a tune or a riff that instantly makes you smile, takes a little of the ache out a bad day and puts your mind in a better place, even if just for a moment?
Grief choir offers that warm embrace.
"Part of the theory behind grief choir is, when you're grieving, it's just the horrible low point of life," she said. "You're just figuring out who am I without this person in my life anymore. It's kind of like, in musical terms, finding your voice."
You can sing. Or listen. Or just be.
"You don't have to sing," DiMaio said. "You could come in, be having a really crappy day and just listen. I've had people sit and cry the whole hour. But they eventually join in singing."
DiMaio's new partner in grief choir is Amanda St. Germain-Sehr, a licensed, board-certified music therapist in Denton and a TWU alumna with master's degrees in counseling and development and music therapy.
"I remember we were sitting in my office talking about options, and Lauren mentioned grief choir," St. Germain-Sehr said. "I said, that sounds cool. And she said, we've always done it with two music therapists."
Three TWU music therapy students make up the choir that will participate in each session: Jade Hope, a senior from College Station; Karina Colon, a junior from Forney; and Leah Pritchett, a senior from Mansfield.
"I tried to pick people that I thought would have an interest in mental health," St. Germain-Sehr said. "They all need experience. I was thinking about clinical training. Who needs experience in mental health and might benefit from this particular opportunity, and what kind of experience could students get in this choir that they might not get elsewhere?"
"The idea of helping people grieve through a choir, through the music is really powerful," Colon said.
"I'd read Dr. DiMaio's articles," Hope said. "I'm very much looking forward to this because I've experienced loss. To see how we can use our practice with those who are going through this as well, it very much interested me. The need for clinical training was great."
For Pritchett, the grief choir is even more personal.
"I had to leave school for a bit last year to take care of funerals," Pritchett said. "I lost my grandmother last May. This Christmas was the first Christmas without her, so it was really hard. Christmas was her favorite time of year, so it was really weird to get to that new normal. So I'm going to get a lot out of it personally, but also to experience this clinically and to know people's stories and to help them process the same way I am."
In fact, Pritchett will study death and dying abroad this summer.
"It's a class about learning about different cultures and how they see death," Pritchett said. "Going to different mausoleums and cemeteries and seeing what death means to different people. So this is definitely going to help me have the roadmap to that class."
One of the early challenges is getting the word out. St. Germain-Sehr's contacts within the local mental health community and DiMaio's contacts with bereavement counselors have been key.
"I'm a licensed mental health professional, so this is in my wheelhouse with grief and loss," St. Germain-Sehr said. "So it kind of seems like a perfect pairing."
"I called a lot of people who are in private practice and focus on grief and loss," DiMaio said. "We've made a flyer and have been sending it out. One area I've gotten a lot of response from in the past have been religious communities. So we're talking to the churches. If they have any grievers in their congregation, here's a local resource. Texas is not a regulated hospice state like North Carolina, so there are a lot of hospices around here. There don't seem to be a lot of community resources. For example, my hospice (in North Carolina), we opened our doors to anyone in the community for bereavement. I had eight counselors, so it was a great resource. Here, the bereavement side of hospice needs more support, so I think it's nice to tell other community organizations."
The sessions will begin with DiMaio's choir meeting those wishing to participate on the front steps of the Music Building.
"We'll greet them and walk them up here," DiMaio said. "I've talked to people who are interested, so I've already done a little prescreening, explained what this is. If people just show up and come in, we'll go over what it's like and just get to know them and their music. Who reads music, who doesn't read music? All those things so that we can make sure we're successful in setting them up for success."
As for the music, don't expect Gregorian chants. In fact, a staple of grief choir is Grief Choir Meditation, a rather upbeat, bluesy tune that allows for improvisation.
"I have a whole binder of the different songs my choirs have done over the years," DiMaio said. "It's a reflection of the people. But we've done things like Bridge Over Troubled Water. We've done the Cat Stevens' Morning Has Broken. Just to give the opposite side, I brought in the Dirty Dozen Brass Band, My Feet Can't Fail Me Now."
There is another factor that DiMaio and St. Germain-Sehr are very aware of: the emotional toll grief choir can take on the choir itself.
"Oh, there have definitely been times in the hospice or outside where I'm just going to go to the bathroom and cry there," DiMaio said. "Yeah. You have to know yourself and your reactions because you're witnessing suffering. To hear someone sing a song to their dead son is very different. We have to talk about boundaries and what happens in your body, and you're also human. If you need to excuse yourself, go do that."
But there is a point to grief choir beyond the release and the shared emotions. Even beyond healing.
"Never forget the person that died, and figure out who you are now," DiMaio said. "You never stop missing them. You'll never not feel a little bit of pain on those anniversary dates. But it changes. And you can still learn new skills. You can still laugh."
For more information on grief choir, contact Lauren DiMaio at ldimaio@twu.edu.
Media Contact
David Pyke
Digital Content Manager
940-898-3325
dpyke@twu.edu
Page last updated 10:31 AM, May 22, 2023