Smithsonian to honor Katherine Landdeck
TWU history professor to speak at Amelia Earhart Lecture May 10
May 8, 2023 – DENTON – Sources from Socrates to the Bible to Ralph Waldo Emerson to Louisa May Alcott to Arthur Conan Doyle have for centuries tried to convince us that hard work is its own reward.
Maybe. But a little recognition now and then is good for the soul.
And though acknowledgment from peers and publishers is satisfying, academic approval exists at an exponentially greater magnitude when it comes from the gold standard of validation: the Smithsonian Institute.
The Smithsonian National Air and Space Museum invited Texas Woman's University history professor Katherine Landdeck, PhD, to be the speaker at the premier lecture in aviation history, the Amelia Earhart Lecture (previously known as the Charles Lindbergh Lecture). Landdeck's speech will take place May 10 at 7 p.m. and will be live streamed. The Smithsonian will also host a dinner sponsored by Pratt and Whitney in Landdeck's honor.
"It's very humbling," Landdeck said. "To have people you respect say it's good is very meaningful. They're going to have copies of my book, and I'm going to sign my book for people at the Smithsonian."
Think about that. An author asked to do a book signing at the Smithsonian. That is the jewel-encrusted 24-karat gold standard.
Landdeck's book is The Women With Silver Wings: The Inspiring True Story of the Women Airforce Service Pilots of World War II, which tells the story of the WASP, the female aviators who flew airplanes for the United States during World War II. Landdeck's lecture, titled "Jacqueline Cochran: Pilot, Leader, Myth," is about one of the WASP leaders.
"Jackie was just an absolutely fascinating, complicated woman," Landdeck said. "Talented, ambitious, smart, but had all sorts of health issues that few people know about, and struggled to reinvent herself from poverty and illiteracy into a dynamic businesswoman who was friend of presidents. She was just an amazing woman. Not everybody liked her, but that's okay. She's still fascinating to study and learn about."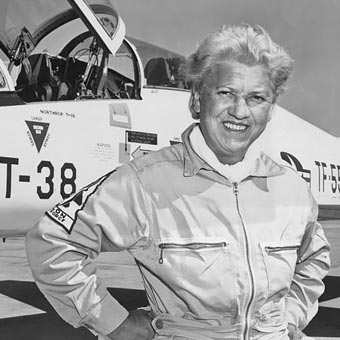 That the invitation to the Earhart Lecture derived from telling the story of Cochran and the WASP is a coming full circle for Landdeck, who was a Guggenheim Fellow at the Smithsonian in 2000 as a graduate student.
"I got to be there in the offices every day and interact with the curators and the materials there and go to the National Archives," she said. "It's a thrill to get back to the Smithsonian. Susan Ware, who's an important 20th century historian, gave the first Earhart lecture, and I'm giving the second one. It's a real honor."
"It's going to be at the Steven F. Udvar-Hazy Center (part of the Smithsonian's National Air and Space Museum)," Landdeck said. "I guess I'm going to be speaking in the IMAX Theater. I'm going to have the plane that Jackie Cochran flew to break the speed of sound nearby and have dinner under the B-2 (the Stealth Bomber). So it's kind of cool."
Cochran and the WASP is the subject that has held Landdeck's attention for decades. It was the topic of her dissertation when she earned her PhD from the University of Tennessee, and in doing her research she met and became friends with several WASP.
"It's wonderful to be able to tell the story of these women," said Landdeck, who herself is a pilot. "It's very rewarding,"
It's a reward that was delayed, like so many things, by the COVID-19 pandemic.
"My book came out in April of '20," Landdeck said. "My publisher had a huge campaign planned. I was supposed to go to Seattle, Washington, D.C., New Orleans, all these places."
Then the world closed and Landdeck's book tour went virtual.
"I ended up doing one of the first virtual book talks for the National World War II Museum, and I did a virtual book tour with all these great museums across the country I was supposed to visit in person," Landdeck said. "But I've only done one or two presentations in person in the three years since the book came out. So to get to do one at the Smithsonian, I'm very much looking forward to it."
The journey to publication, however, was long and, ultimately, agonizing. Landdeck's original manuscript, swollen by decades of research and personal relations to these extraordinary women, was at one point 300,000 words. While that's not the epic length of War and Peace, 300,000 words is massive. Most modern books fall in the range of 60,000 to 120,000 words.
"I gave my editor the full draft, and she was very gentle and kind, but she's like, okay, we need to trim this down," Landdeck said. "There's the lead characters (Cochran and Nancy Love), and there's three WASP we follow all the way through. I had two more that I had all the research, and they were good friends of mine, and I had them woven through as well. But it was just too much and it had to be dramatically trimmed. We went through several drafts. I had to cut two thirds of the book. She was right, but it was painful."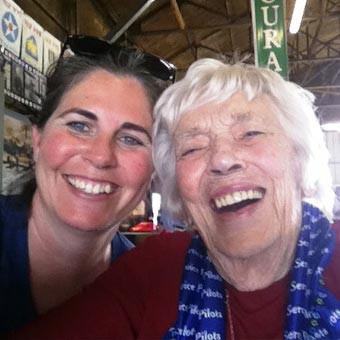 But worth it, as the results have proven. The Women With Silver Wings broke out of the bubble in which so much nonfiction exists. Ask publishing professionals what constitutes good sales for nonfiction and some numbers surface:
Literary agent Jane Dystel: "A sensational sale would be about 25,000 copies. Even 15,000 would be a strong enough sale to get the publisher's attention for the author for a second book."
Scribe Media: "For a traditional publisher to think of a nonfiction book as a success, it has to sell more like 10,000 copies over its lifetime."
Literary agent Steve Laube: "I usually say that the 'average' book sells 10,000 copies with a major publisher."
The Women With Silver Wings has sold more than 22,000 copies. While no one tracks such things, it's almost certainly the best-selling book in the history of TWU.
The book also garnered glowing reviews from Newsday, the San Francisco Chronicle, the Daily Mail and Publisher's Weekly, a starred review from Library Journal, and was an Amazon Editor's pick for Best History. Perhaps more importantly, The Women With Silver Wings has a 4.7-star rating from 679 reader reviews on Amazon.
The success of The Women With Silver Wings and the ensuing Smithsonian invitation are a seminal moment for a career that has stretched far beyond the classroom. Put it this way: how many professors do you know who are listed on the Internet Movie Database?
Landdeck has worked in documentary films for 20 years, producing videos and television shows and earning multiple Emmy nominations. In 2020, she won an Emmy as producer of the documentary A Wartime Experiment in Womanpower.
She's been a commentator on 28 episodes of the series Mysteries of the Abandoned, broadcast on Netflix, Amazon, Discovery and the Science Channel. She has been featured in documentaries for the History Channel, the Smithsonian Channel, A&E and PBS, and has television and radio appearances on Good Morning America, CNN, National Public Radio, Huffington Post Live, NBC Nightly News, CBS Evening News, Al Jazeera America, C-Span, Talk Radio Europe and KERA's Think with Krys Boyd.
Landdeck has been interviewed dozens of times by newspaper and magazine reporters, done scores of podcasts, including the Smithsonian National Air and Space Museum podcast and the Stuff You Missed in History Class podcast about Jacqueline Cochran. Landdeck has done public presentations and guest lectures, and has written newspaper columns on an array of topics.
"I've worked in media for 20 years, either as a talking head or as a producer," she said. "I've been a part of many World War II documentaries, international and national, and so I feel like the work that I've put in over the years is really starting to pay off."
The latest addition to her resume is being named to the advisory board for the National Medal of Honor Museum being built in Arlington, Texas. It's scheduled to open in 2024 to recognize the most prestigious honor bestowed upon a member of the United States armed forces.
"They've put together a new advisory board," Landdeck said. "They started designing it and realized it was just a military museum, not a museum about these people, so they scrapped their ideas and added to the board people who do social history. I'm kind of a nice mix since I do social and military and public history, so I can address a lot of the different issues. We had our first meeting of the new board and it was fantastic. They're doing some really terrific things, and I'm hoping to have a chance to incorporate some of my public history students into the project. It's quite an honor to be able to have a voice to help shape that and honoring the people who've been honored with this medal."
About the only thing that has slowed Landdeck was the winter storm that gripped the area in January and February. As every pilot knows, ice on an airplane's wings can disrupt airflow, increase drag and cause a crash. Turns out it's a little rough on pilots on the ground, too. Landdeck, while walking her dog, slipped on the ice and broke her lower leg, requiring surgery. She'll make her appearance at the Smithsonian in a boot.
"I've been doing things remotely, but hope to make up for stuff this summer," she said.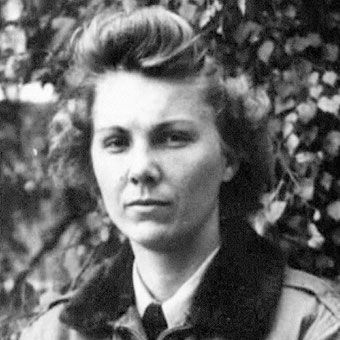 Among that stuff is Landdeck's next project, a book about American flight nurses in World War II. Publication is tentatively planned for Spring 2025.
"I'm focusing on Reba Whittle, who was shot down over Germany and was the only American woman held prisoner by the Germans," Landdeck said. "I'm telling the story of these women who flew in close to the battlefields to collect injured men and flew back out with them. They weren't pilots, they cared for the wounded. Part of the reason Reba got shot down was they weren't allowed to put red crosses on their planes because they'd fly in with planes full of fuel and weapons and supplies and then fly out with patients. So that's why they couldn't have the red cross marking."
The research for this book has been dramatically different since Landdeck doesn't have the oral histories she herself collected for The Women With Silver Wings.
"Luckily, a lot of these women did oral histories with others, and there are a lot of video oral histories of them," Landdeck said. "So I can benefit from them even if I didn't get to do them myself. With the WASP, I did the interviews myself, and then their papers were slowly gathered here at the university (the TWU library is home to the WASP official archive). Their materials are all across the country, so tracking down the letters and diaries and such is much more difficult. But everybody needs a challenge. It's fun."
It's been a remarkable, eventful journey, especially under the weight of a full four-four course load (teaching four courses in the fall and spring semesters). Still, Landdeck's success is not the usual track for a college professor.
"My department has been very supportive of my oddness," Landdeck said. "I'm odd, right? I don't spend all my time writing academic articles (although she has some of those too). I make documentaries and I work with museums and I do public history work, which is weird, and not everybody understands. The people in my department who hired me were very supportive of my oddness and recognize that while it's a little different from the traditional academic path, it's good scholarship.
"I feel like the last few years, the outside world is saying, 'Wait, she knows what she's talking about.' Last year I spoke at the National Museum of the Pacific War in Fredericksburg (Texas), and the panel I was on had some really good military historians. 'Holy cow, what am I doing up here with these guys?' I was really pleased that I had some things to say that they were like, 'Oh, I hadn't thought of it that way.' I was an equal part of the conversation, and that was really rewarding because I'm an odd duck in the military history world, too, because I do social and military history, war and society. So it's kind of a strange fit there as well. But it seems to all be coming together.
"I'm grateful to be in a place that allows for creative scholarship even in a more traditional field like history."
Watch Kate Landdeck's speech at the Amelia Earhart Lecture
Media Contact
David Pyke
Digital Content Manager
940-898-3325
dpyke@twu.edu
Page last updated 2:54 PM, May 11, 2023