Sue Ellen Taylor Murrah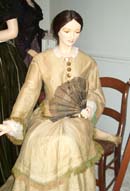 Sue Ellen Taylor was born at Hamburg, South Carolina, in 1835. Her family moved to Harrison County in Texas in 1850. She married Pendleton Murrah who was a politician and attorney. The Murrahs had no children of their own.
1863 - Sue Ellen Taylor Murrah and Pendleton Murrah moved to Austin when he was elected governor. These were tragic days during the War between the States. Instead of the fine white cakes usually served at the inauguration, only cakes made of cornmeal were served at an inaugural dinner.
The Governor's Mansion caught fire during Pendleton Murrah's term in office. The Murrahs had to temporarily leave the mansion.
As Governor Murrah's term of office drew to a close, rumors said that he and other Confederate leaders would become political prisoners. He fled to Mexico to avoid persecution and died soon after he arrived.
There is no record of an inaugural gown. The gown representing Sue Ellen Taylor Murrah was worn in 1865 and was presented to the collection by Mrs. J. S. Humphreys of Amarillo, Texas, through the Esther McCrory Chapter of the Daughters of the American Revolution. The gown is made of soft green starched silk voile lined with cambric. The tight bodice, bell sleeves, high neckline with narrow white collar and the long full skirt are authentic fashion notes. Crinolines were being replaced by starched cotton petticoats which were more comfortable and graceful.
Page last updated 4:21 PM, February 16, 2017