Sarah Beona Meng Lanham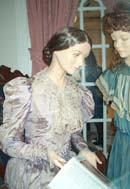 Sarah Beona Meng was born in 1845 around Pacolet, South Carolina. She married a Confederate soldier, Samuel Willis Tucker Lanham, and they drove to Texas in a wagon. They settled first in East Texas where she taught school for one year. The family later moved to Weatherford, Texas, and opened a school in 1868.
1903 - Sarah Beona Meng Lanham was 58 years old when her husband was elected Governor of Texas.
There was no mention of her inaugural gown, but the Dallas Morning News on January 20, 1903, described the ball as a "splendid success." The gown was presented to the collection through the Weatherford, Texas, Chapter of the Daughters of the American Revolution. The gown in the collection is a replica of the one that she wore to the Inaugural Ball and in which she was buried. The gown is made of heliotrope brocaded China silk with lace collar and fichu and lace edging on the sleeves.
Page last updated 9:47 AM, February 17, 2017