Sallie Harrison Culberson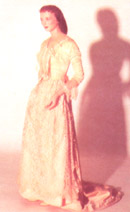 Sallie Harrison was born in Clarksville in 1861 and attended Ward's Seminary in Nashville, Tennessee. The Harrison family was living in Jefferson, Texas, when she met young attorney Charles A. Culberson. Sallie and Charles were married in 1882 and moved to Dallas, Texas, five years later.
1890 - Charles A. Culberson was elected attorney general and served a second term.
1895 - Charles A. Culberson was elected governor, and Sallie Harrison Culberson was the first native Texan to serve as First Lady of Texas.
During Governor Culberson's second term, the United States declared war on Spain, and Texas produced four regiments, among them the famous "Rough Riders" of Teddy Roosevelt.
At the end of his term as governor, Charles A. Culberson was sent to the U. S. Senate where he served for 22 years.
Sallie Harrison Culberson's gown in the collection is a reproduction of one of her gowns and was presented by Miss Lucy Smith and the Mary Isham Keith Chapter of the Daughters of the American Revolution in Fort Worth.
Page last updated 9:43 AM, February 17, 2017