Rita Crocker Clements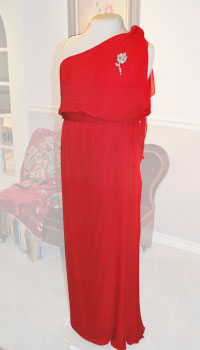 Rita Crocker Clements grew up on ranches in Kansas and Texas before attending Hockaday School in Dallas, Wellesley College in Massachusetts, and completed her undergraduate degree at the University of Texas in Austin. She married William P. "Bill" Clements who served two nonconsecutive terms as Governor of Texas.
Rita Clements served as a Dallas Junior League president and state GOP organizer before she became the First Lady of the State of Texas.
1979 and 1986 - William Clements was elected Governor of the State of Texas. Previously he had served as Deputy Secretary of Defense under Presidents Nixon and Ford.
Rita Clements undertook a complete restoration of the governor's mansion. Particular that the furnishings of mansion include 19th century Texas and American antiques and historical pieces, she founded Friends of the Governor's Mansion to provide needed funding for the project.
Rita Clement's inaugural ball gown is a one-shoulder red silk chiffon by Galanos.
Page last updated 10:32 AM, February 17, 2017