Myrtle Mainer Neff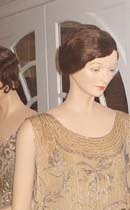 Myrtle Mainer's parents were early settlers in Lovelady, Texas, where her father was a merchant. Myrtle Mainer entered Baylor University, majoring in music. Myrtle Mainer married Pat Neff in 1899 and moved to Austin when he was elected as Speaker of the House in the Texas Legislature.
1921 - Pat Neff was elected Governor of Texas. However, no traditional inaugural ball was held because the couple did not approve of dancing.
After Governor Neff's term ended, he was made president of Baylor University.
Myrtle Mainer Neff's gown was presented to the collection through the Henry Downs Chapter of the Daughters of the American Revolution in Waco, Texas. The gown is made of white chiffon, beaded from neck to hem with crystals and pearls in an ornate design and trimmed with ermine tails.
Page last updated 9:56 AM, October 13, 2020