Miriam Amanda Wallace Ferguson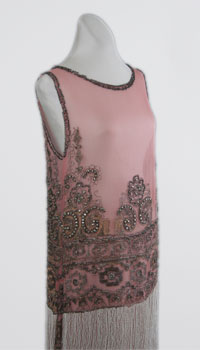 Miriam Amanda Wallace was born in Bell County, Texas, in 1875. Her father was engaged in farming on a large scale. She received her education from Baylor Female College and Salado College. She married James E. Ferguson.
1915 - James E. Ferguson was elected Governor of the Texas.
1925 - Miriam Amanda Wallace Ferguson was elected to serve as the first woman Governor of Texas.
1933 - Miriam Amanda Wallace Ferguson was elected to serve a second term. The Legislature was sympathetic to her platform; therefore, many of her aims were accomplished. One in particular was the adoption of an amendment to the Constitution providing for an additional millions of dollars in relief for the needy.
Miriam Amanda Wallace Ferguson's gown was presented to the collection through the Betty Martin Chapter of the Daughters of the American Revolution in Temple. The gown was the one she wore to the inaugural ball when she was elected Governor of Texas. The gown was manufactured by Samuel Kass of New York and cost $125. The material of the gown is paulette crepe in a soft shade of orchid.
Page last updated 3:13 PM, October 11, 2017