Mildred Paxton Moody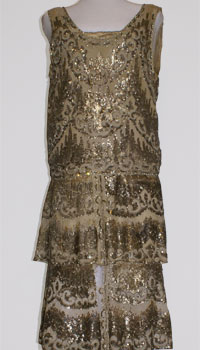 Mildred Paxton was born in Abilene, Texas, in 1897. She attended Hardin-Simmons University in Abilene where she earned a Bachelor of Arts degree. She attended the University of Texas in Austin and earned a master's degree. She also took a concentrated course in nursing to replace the nurses who were in France with the armed services. She married Dan Moody who was the Attorney General of Texas.
1927 - Dan Moody was elected Governor of Texas. On a trip to Washington with her husband, Mildred Paxton Moody purchased her inaugural ball gown.
Mildred Paxton Moody was active in many service projects, including nursing in Austin hospitals during World War II.
Mildred Paxton Moody wrote an article entitled "Housekeeping in the Governor's Mansion," which was published in the Dallas Morning News. It was her suggestion that the present Board of Mansion Regents was established to oversee maintenance of the building.
Mildred Paxton Moody presented the gown to the collection. The gown is a beautiful sequined pale grey chiffon, with a short skirt, tubular silhouette and waist line at the hips, typical of the fashion of the 1920s.
Page last updated 9:53 AM, February 17, 2017