Merle Estelle Butcher O'Daniel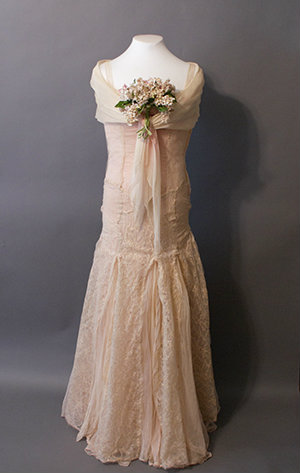 Merle Estelle Butcher from Colorado met her future husband, W. Lee O'Daniel, in a business college in Hutchinson, Kansas. In 1925, the O'Daniel family moved from Kansas to Fort Worth to go into the wheat flour business.
1939 - W. Lee O'Daniel was elected Governor of Texas. The public was invited to the inauguration, the first one ever held outdoors in Texas. The entire day was dedicated to the citizens of Texas, with receptions held in the evening.
After serving two terms in Austin, Governor O'Daniel was elected to the United States Senate.
Governor O'Daniel emphasized the importance of using Texas-made products during his administration. The clothing worn by the O'Daniel family members to the inaugural ceremonies was made by textile students at Texas Technological College.
Merle Estelle Butcher O'Daniel renovated and modernized the Governor's Mansion kitchen.
Merle Estelle Butcher O'Daniel presented the gown to the collection. The inaugural gown is made of pink lace and sheer marquisette with fitted bodice and full skirt. Although the gown is sleeveless, a deep fichu covers the shoulders to give the effect of short sleeves. The gown is completed with a delicately colored corsage on the fichu of the neckline.
Page last updated 10:14 AM, February 17, 2017