Mary Jane Bowen Hamilton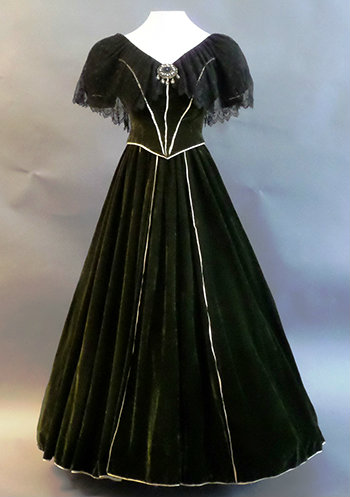 Mary Jane Bowen was born in Georgia in 1828 and moved with her parents to Alabama. Mary Jane Bowen's father took a young lawyer, Andrew Hamilton, into his office as a partner. Mary Jane Bowen married Andrew Hamilton and moved to Texas in 1847.
1865 - Andrew Hamilton was appointed Provisional Governor of Texas by United States President Andrew Johnson.
Andrew Hamilton was said to be the most suitable person for reconstruction following the tragic war years. Hamilton was respected by the people of the state regardless of party affiliations.
The gown representing Mary Jane Bowen Hamilton is a copy of the Mary Todd Lincoln gown in the Smithsonian Institution. The gown is made of dark green silk velvet. The skirt is cut in gores that provide the fullness at the bottom. It is designed to be worn over slender hoops which give it a bell shape. Each gore of the skirt and the seams of the fitted basque are outlined with white satin piping. The plain short sleeves and low neckline, deep lace bertha and jeweled "breast pin" are characteristic of the late 1860s.
Page last updated 4:49 PM, February 16, 2017