Mary Evans Horne Coke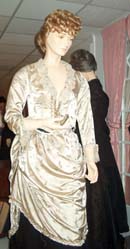 Mary Evans Horne was born in Georgia in 1836. Her father, a physician, moved the family to Waco, Texas. At the age of 15, Mary Evans Horne married Richard Coke. Originally from Richmond, Virginia, Richard Coke was a lawyer who was persuaded by Sam Houston to move to Texas and start his practice.
Richard Coke enlisted in the Confederate Army and served during the entire war. Richard and Mary Evans Horne Coke endured the hardships of the Reconstruction period.
1874 - Richard Coke was elected Governor of Texas and moved his family to Austin. During his second term as governor, he resigned his position after being elected in 1877 as a United States Senator.
Mary Evans Horne Coke was a frail woman and an invalid during the times that she was the First Lady of Texas. U.S. Senator Coke bought a home in Waco where Mary lived during his three terms in Congress.
None of Mary Evans Horne Coke's gowns could be located for the collection. However, the Llano Estacado Chapter of the Daughters of the American Revolution in Amarillo, Texas, presented a gown which is typical of the period. The gown has a tight basque, an overskirt and back fullness. It is made of ivory satin brocade draped over a black satin skirt; the V-neck is outlined with soft shirring of the material. Rosepoint lace trims the neck and the three-quarter length sleeves.
Page last updated 4:27 PM, February 16, 2017