Martha Melissa Evans Clark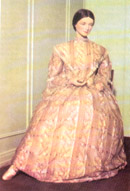 Martha Melissa Evans was born in Tennessee and later moved with her family to Marshall, Texas. Her father was a physician and a wealthy planter. Even though Martha Melissa Evans was one of 14 children, she grew up in as much luxury and comfort as the time and conditions in early Texas afforded.
1849 - Martha Melissa Evans married Major Edward Clark. Major Clark's family was prominent in the political life of Georgia and Louisiana.
Major Edward Clark was a member of the senate, Secretary of State and Lieutenant Governor
1861 - Major Edward Clark became governor when he completed the term of Governor Sam Houston.
There is no record of an inaugural gown belonging to Martha Melissa Evans Clark. The gown representing her in the collection was worn in 1859 and given to the collection by Mrs. John B. Daniel of Temple, Texas. Made by hand of the sheerest India muslin, it is the oldest costume in the collection. The full skirt is lined with China silk to give it body and to protect the fabric. The high neckline, double bell sleeves and fitted bodice are typical of the fashion of the time.
Page last updated 4:18 PM, February 16, 2017