Martha Evans Gindrat Wood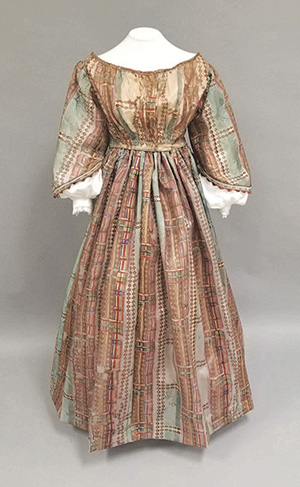 Martha Evans Gindrat, a young widow, lived on a Milledgeville, Georgia, plantation. She met George T. Wood, a Georgia state representative and married George in 1837. Martha became an expert in the culture of silk and the production of silk fabric.
1839 - George T. and Martha Evans Gindrat Wood moved to Pointblank, Texas, in San Jacinto County. George practice law and was elected to represent the county in the Congress of the Republic.
1845 - George T. Wood was elected to the Texas Senate
1847 - George T. Wood was elected Governor of Texas.
Since Martha Evans Gindrat Wood did not take part in the life of the capital and none of her possessions remain, a gown was chosen to represent her in the collection. The gown was presented by Misses Josephine and Rosa Vogel of Fort Worth. Made of the silk French gauze popular at that time, the gown had the characteristic design of alternate stripes of light blue and vari-colored plaid. The basque and the bell-shaped sleeves had trimming of soft corded folds, while the full skirt was worn over petticoats and hoops. The entire gown was lined with net and made by hand in New Orleans in 1850.
Page last updated 11:49 AM, July 29, 2021