Marialice Shary Shivers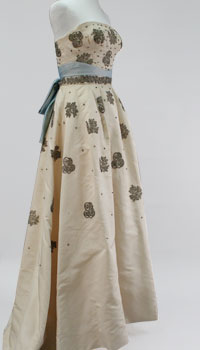 Marialice Shary's family moved from Omaha, Nebraska, to Texas. Her father was a developer of the citrus industry in the Rio Grande Valley. She attended Our Lady of the Lake College in San Antonio where she earned a Bachelor of Arts degree. In 1937, she married Allan Shivers, a lawyer from Port Arthur.
1949 - Allan Shivers was elected lieutenant governor and moved his family to Austin.

During Allan Shivers' second term in office, he became governor when Beauford Jester died suddenly. After serving the remainder of that term, Allan Shivers was elected for three more terms.

During her seven years as First Lady of Texas, Marialice Shary Shivers supervised extensive rebuilding and redecorating of the Governor's Mansion.
Marialice Shary Shivers was a member of the Settlement Club, Junior Helping Hand, Austin Symphony League, McAllen Junior Service League and Board of Directors of Laguna Gloria.
Mrs. Shivers presented her inaugural ball gown to the collection. The gown is made of heavy white satin on princess lines with a bell-shaped skirt and a beaded strapless bodice with a beautiful neckline.
Page last updated 10:18 AM, February 17, 2017