Margaret Moffette Lea Houston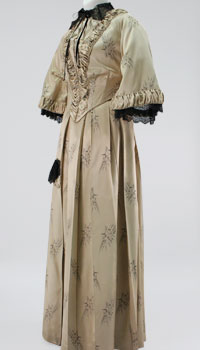 Margaret Moffette Lea Houston was born in Alabama in 1819. She was the daughter of a Baptist minister and studied at Pleasant Valley Seminary. She had an unusual literary ability, especially in the writing of poetry. In 1840, at the of 21, she married 47-year-old Sam Houston. As a homemaker, she was devoted to her husband and eight children.
In 1836 General Sam Houston was elected President of the Republic of Texas. In 1841, he was elected for a second term as President of the Republic.
In 1845 Texas was annexed to the United States of America, becoming the 28th U.S. state. Houston served as one of the new state's first two senators. He became governor in 1859.
Mary Martin Elmore Chapter of the Daughters of the American Revolution in Huntsville gave a copy of this dress to the collection. Margaret Moffette Lea Houston's dress is a soft beige brocaded satin dress with a long hoop skirt. The fitted waist is trimmed with puffed and ruffled edging on the bodice and around the wide elbow-length sleeves. Touches of black lace edge the sleeves and neck.
Other scenes may fade and other lessons may be forgotten but the words of my mother will linger when songs die away." — Margaret Moffette Lea Houston's daughter, describing her mother
Page last updated 1:09 PM, August 5, 2021