Mamie Geneva Doud Eisenhower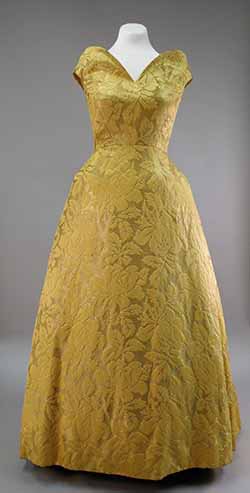 Mamie Geneva Doud was born in Boone, Iowa, in 1896. In 1915 in San Antonio, she met Lieutenant Dwight David Eisenhower who had just graduated from West Point. They married the next year and established their first home at Fort Sam Houston.
Mamie Geneva Doud Eisenhower lived in Washington, D.C., while General Eisenhower served as Supreme Commander of Allied Expeditionary Forces during World War II.
1952 - Dwight David Eisenhower was elected the 34th President of the United States.
The gown in the collection is the one Mamie Geneva Doud Eisenhower wore for the first visit of Soviet Premier and Mrs. Khrushchev to the United States in 1959. The First Lady presented the gown to the collection.
Designed by Scassi, the gown is made of gold brocade. The neckline is in modified Renaissance style with a natural waistline dipping to a deep squared yoke in the back at the hip. A semi-train drops in folds and gathers down the back. The brocade design is underlined with silk and a gold net dust ruffle with a stiffened petticoat of layers of gold nylon net.
Page last updated 10:55 AM, October 3, 2019