Mabel Buchanan Jester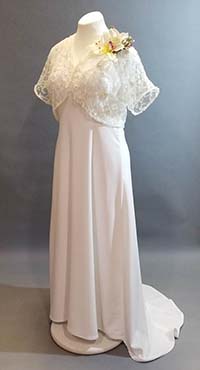 Mabel Buchanan Jester was born in Texarkana, the daughter of James Allen Buchanan and Ludie Gertrude Turner.
She married Beauford Jester on June 15, 1921 and the couple settled down in Jester's hometown of Corsicana, Texas. They had three children; Barbara, Joan, and Beauford, Jr.
During her stay in Austin, Mrs. Jester oversaw extensive renovations to the Governor's Mansion.
In addition to being a devoted mother, Mrs. Jester hosted many social events including a tea attended by Randolph Churchill. She also spent much of her time volunteering with the Red Cross during World War II.
First Lady Jester's inaugural gown was ordered from a specialty shop in Dallas, Texas and was made of a white crepe material with a lace bolero-style jacket adorned with silver bugle beads. She wore an orchid on her left shoulder.
Her gown is a reproduction of the dress she wore to Governor Jester's inaugural ball on January 21, 1947. The reproduction was designed and produced by Melanie Sanford (Textile Preservation Services of Texas), from a brief newspaper description and a single black and white photo of Governor and Mrs. Jester attending the inauguration festivities. The gown is the newest addition to the collection.
Grant funds for Mrs. Jester's gown were generously provided by the Summerlee Foundation.
Page last updated 3:15 PM, February 21, 2019