Lucadia Christiana Niles Pease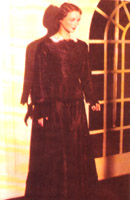 Lucadia Christiana Niles was born in Connecticut in 1813. Lucadia attended the Hartford Seminary where she received the best education given to women of her time.
1850 - Lucadia Christiana Niles married Elisha M. Pease and accompanied him to Brazoria, Texas.
1853 - When Elisha Pease was elected Governor of Texas, the family moved to Austin. At this time, Lucadia Christiana Niles Pease chose the location of the new Governor's Mansion and assisted with the selection of the architectural style.
Governor Pease served two terms as governor and then, after ten years, served a third term.
Since her gowns were not available, a gown given by Mrs. W. L. Pearson through the Lady Washington Chapter of the Daughters of the American Revolution in Houston, Texas was presented to the collection.
For the two inaugural balls, Lucadia Christiana Niles Pease wore black silk gowns. The gown features a tight basque with bell sleeves and has a collar and cuffs of lace. The lace mitts and "memorial pin" containing a lock of hair were stylish accessories of the time.
Page last updated 2:29 PM, February 16, 2017