Linda Gale White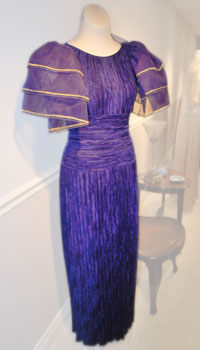 Linda Gale White was born on June 13, 1942. She grew up in Irving, Texas, and is a 1964 graduate of Baylor University. She married Mark White in 1966 and they are the parents of three children.
Linda Gale White taught high school in Austin and Houston. In the mid-seventies, she began a career in real estate sales and currently holds a real estate license.
1982 - Mark White was elected Governor of the State of Texas. He previously served as Secretary of State and state Attorney General. He served during Texas' sesquicentennial in 1986.
Linda Gale White is active in community volunteer work.
Linda Gale White was the first First Lady of Texas to present her inaugural ball gown to the Texas First Ladies Gown Collection at Texas Woman's University while still First Lady. Linda Gale White's gown is a Mary McFadden original design. It is permanently crystal pleated and accordion pleated purple with self-fabric cummerbund. It has three-tiered bell sleeves in purple silk chiffon-each tier edged in gold braid-and has touches of gold throughout the gown.
Page last updated 10:36 AM, February 17, 2017