Joe Betsy Miller Allred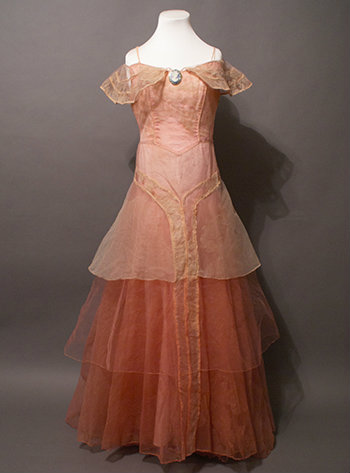 Joe Betsy Miller was born in Oklahoma in 1905 and later moved with her family to Wichita Falls, Texas. From an early age she was very talented in music. She attended the Glenn Dillard Gunn Conservatory in Chicago and then continued her studies in New York. She attended Southern Methodist University from which she graduated with a major in the teaching of public school music. In 1927, she married James Allred, a young lawyer in Wichita Falls.
1935 - James Allred was elected governor after serving two terms as attorney general of Texas. Joe Betsy Miller and James Allred lived in Austin from 1931-1939.
Joe Betsy Miller Allred restored several pieces of antique furniture in the Governor's Mansion. Many Austin organizations enjoyed entertaining in the mansion, including the Daughters of the American Revolution, the United Daughters of the Confederacy, the Girl Scouts and the Austin Symphony Society.
Joe Betsy Miller presented her own inaugural gown through the Silas Morton Chapter of the Daughters of the American Revolution in Graham, Texas. The gown is trimmed with chiffon shirring. A matching coat of silk velvet with shirred velvet collar completes the ensemble.
Page last updated 10:13 AM, February 17, 2017