Janie Roberts Hubbard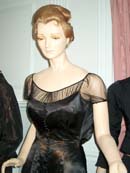 Janie Roberts was born in Georgia in 1849. Her father, a Georgia Senator, greatly influenced her interest in politics. Her family moved to Tyler, Texas where she met and married Richard B. Hubbard in 1869.
1876 - When Richard B. Hubbard took office after the resignation of Governor Richard Coke, he moved the family to Austin. Upon the completion of Richard B. Hubbard's term as Governor, the family returned to Tyler.
1882 - Janie Roberts and Richard B. Hubbard had three children, two sons and one daughter. The two sons died during an epidemic of diphtheria. Janie Roberts Hubbard was never physically strong after the birth of her daughter and the death of her two sons.

Richard B. Hubbard again became involved in politics by supporting Grover Cleveland's successful campaign for president of the United States. Richard was appointed Envoy Extraordinary and Minister Plenipotentiary to Japan.

The Hubbards had been living in Tokyo, Japan, for almost two years when Janie Roberts Hubbard became ill and died. Her remains were returned to her Tyler, Texas, home for burial.
There were no gowns available belonging to Janie Roberts Hubbard. A costume representing her is included in the collection.
Page last updated 4:48 PM, February 16, 2017