Ima Mae Smith Smith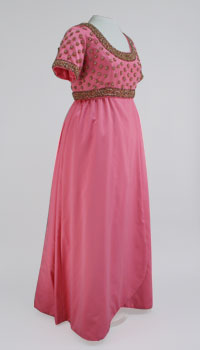 Ima Mae Smith was born in Jack County and later moved to Ralls, Texas. She attended Texas Technological College at Lubbock where she met Preston Smith. They were married in 1935 and settled in Lubbock.
1969 - Preston Smith served as a state representative for six years, a state senator for six years, the lieutenant governor for six years, and Governor of Texas for four years.
Ima Mae Smith Smith's community work included the Methodist Hospital Auxiliary, the Women's Organization of the Lubbock Chamber of Commerce, the Lubbock Country Club, Zeta Tau Alpha Sorority Alumnae and the St. John's United Methodist Church.
She was awarded the Distinguished Alumnae Award from Texas Tech University.
Ima Mae Smith Smith presented her gown to the collection. The inaugural gown of rose colored satin is an empire style dress featuring a softly gathered straight skirt with beaded bodice, short sleeves and gently rounded neckline. The gown was made for her by Wilhite, a Dallas designer.
Page last updated 10:26 AM, February 17, 2017