Idanell Brill Connally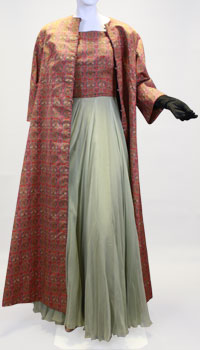 Idanell "Nellie" Brill met John Connally while both were students at the University of Texas at Austin. He was a law student and president of the Student Association. Both Idanell Brill Connally and John Connally received The University of Texas Distinguished Alumni Award.
1949 - John Connally became an assistant to Senator Lyndon Johnson. He later became Secretary of the Navy
1963 - John Connally was elected Governor of Texas.
Idanell Brill Connally raised private funds to landscape the gardens around the Governor's Mansion. She was the chairman of fundraising drives for the Mental Health Association, The Cancer Crusade and the Tuberculosis Drive.
Idanell Brill Connally presented her gown to the collection. The inaugural gown was an ensemble of silk. The fabric used for the long self-lined reversible coat and the camisole top of the gown has a historical motif that is lively in its warmth and hand-wrought appearance. The full skirt of the gown is of soft willow green chiffon with an underskirt of fine ottoman in the same soft green color.
Page last updated 10:25 AM, February 17, 2017