Hannah Este Burnet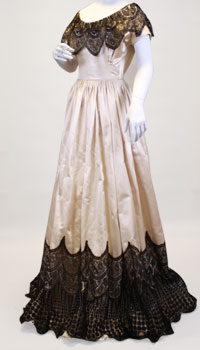 Hannah Este Burnet and her husband, David G. Burnet, moved from their native state of New Jersey to the Galveston area where they established a home and lumber mill. David not only practiced law, but was also a farmer.
1833 - David G. Burnet was a delegate to the San Felipe Convention that petitioned to start a separate government of Texas.
1836 - When Texas became a republic, David G. Burnet was elected President.
Hannah Este Burnet supported her husband in all his political activities, assuming much of the responsibility of the home, the farm, and the children.
The gown representing Hannah Este Burnet in the collection is a reproduction of a costume worn at the first San Jacinto Ball in Houston in 1837. The fabric used for the Hannah Este Burnet's dress is heavy ivory satin with a wide flounce of black Spanish lace circling the hem of the full skirt and a matching lace bertha covering the shoulders of the sleeveless bodice. The gold comb, which is over 100 years old, is typical of the ornaments worn at that time.
Page last updated 2:24 PM, February 16, 2017