Frances Wickliffe Edwards Roberts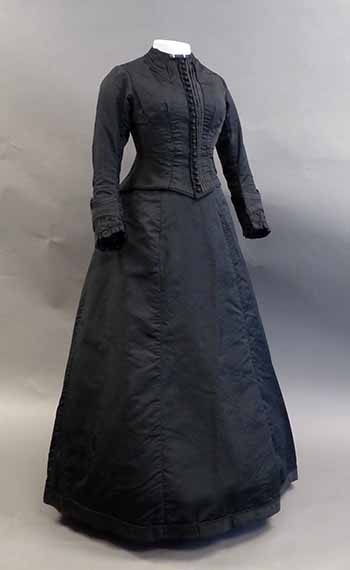 Frances Wickliffe Edwards was born in South Carolina. Her father moved the family to Ashville, Alabama, where Frances met and married a law student, Oran Roberts. Frances and Oran Roberts moved first to St. Augustine, Texas, and later settled in Tyler, Texas.
During the War between the States, Oran Roberts served as a colonel, and Frances Wickliffe Edwards Roberts fitted a small house near their plantation as a hospital for the 11th Texas Infantry.
1879 - Oran Roberts was elected governor. Educational legislation was important during his administration. Governor Oran Roberts was instrumental in the founding of the University of Texas, Sam Houston Normal School and Prairie View Normal School. He helped with the reorganization of Texas Agricultural and Mechanical College.
There were no gowns available belonging to Frances Wickliffe Edwards Roberts. A costume representing her is included in the collection.
…I had in my possession a dress worn by my grandmother;…it is made of grosgrain silk bought from Wanamaker's,…lined all the way with drilling and the waist has whale bones in each seam. The skirt is five yards around the bottom with woolen braid around the edge…No lady was well dressed in those days unless she possessed a black silk dress." — Mrs. C. V. Holland, a letter in which she describes the dress
Page last updated 8:30 AM, September 17, 2019