Frances Cox Henderson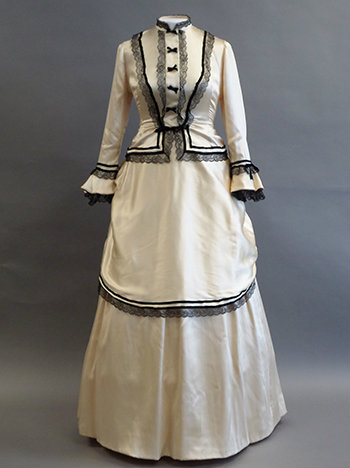 Frances Cox was raised in Paris, France. She had an unusual ability in mathematics and linguistics. She fluently spoke 18 languages, played the harp and piano and had a well-trained voice.
1839 - Frances Cox married James Pinckney Henderson from North Carolina. James, a lawyer, became involved in the struggle of Texas for independence from Mexico. Texas President Sam Houston appointed James Charge d'Affairs to France from the Republic of Texas.
1846 - James Pinckney Henderson became the first governor of Texas when Texas joined the United States. Frances Cox Henderson continued to live in San Augustine.
Frances Cox Henderson did not attend the inaugural ceremonies.
The costume representing Frances Cox Henderson was presented by the Mary Tyler Chapter of the Daughters of the American Revolution in Tyler. Frances Cox Henderson's costume was reproduced from a photograph of her wearing her wedding gown. Made of white satin, the gown is trimmed with narrow black lace and black velvet ribbon. The headdress of black lace has a spray of white lilies-of-the-valley on top.
Page last updated 12:29 PM, January 30, 2020