Fannie Irene Bruner Campbell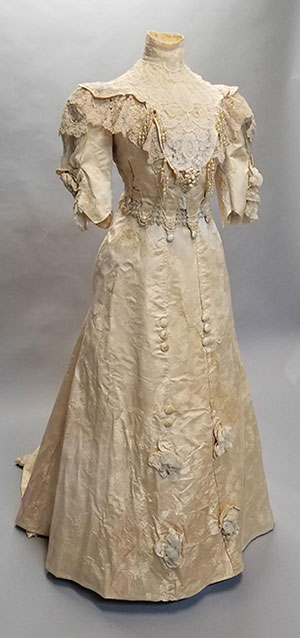 Fannie Irene Bruner was born on a large plantation in Mississippi in 1856. Fannie was educated in a fashionable girls' school. In 1878, she married a young lawyer from Texas, Thomas Mitchell Campbell. The Campbells first moved to Longview and then to Palestine.
1907 - Thomas Mitchell Campbell was elected Governor of Texas and the family moved to Austin.
When the Texas Legislature appropriated money for the Governor's Mansion, Fannie Irene Bruner Campbell supervised the improvements, landscaped and terraced the grounds and put walks around the building.
This gown was presented to the collection by the Campbell's daughters: Mrs. D.S. Wommack, Mrs. C.V. Dilley, and Mrs. R. R. Allen, through the William Findley Chapter of the Daughters of the American Revolution of Palestine, Texas. Fannie Irene Bruner Campbell's gown was made of the finest white brocaded satin, imported Duchess and rosepoint lace, beading and chiffon roses. With this gown, she wore an exquisite diamond crescent and star and a diamond bracelet which had been given to her by Governor Campbell. The gown does not have all the original lace on the skirt. This was removed for use on Fannie Campbell's daughter's wedding gown. Otherwise, the gown is in its original state.
Page last updated 1:44 PM, May 12, 2021