Elizabeth Dorothy Tinsley Ross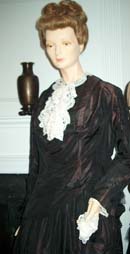 Elizabeth Dorothy Tinsley was born in Augusta, Georgia, in 1854. Her father, a successful physician and planter, moved his family to Waco, Texas. In 1862, Elizabeth Dorothy Tinsley married Lawrence Sullivan Ross.
1862 - Lawrence Sullivan Ross, an experienced Indian fighter, joined the Confederate Army and stayed in throughout the war. After the war, Lawrence and Elizabeth Ross moved to Waco, Texas.
1887 - Lawrence Sullivan Ross was elected governor and moved his family to Austin. "Sul" Ross was one of the most popular governors Texas has ever had. Elizabeth was serving as the First Lady of Texas when the present capitol was dedicated.
The gown was presented by the Henry Downs Chapter of the Daughters of the American Revolution in Waco, Texas. For her husband's inaugural ball, Elizabeth Dorothy Tinsley Ross wore a black silk gown. The costume in the collection is a replica of a gown in her wardrobe. It is made of black silk taffeta and trimmed with pleated black taffeta ruffles. It has a long, full skirt, a tight bodice, and long sleeves flared at the wrist. The narrow ruffles of hand-made lace which trim the sleeves match the lace collar and jabot.
Page last updated 4:57 PM, February 16, 2017