Claudia Alta "Lady Bird" Taylor Johnson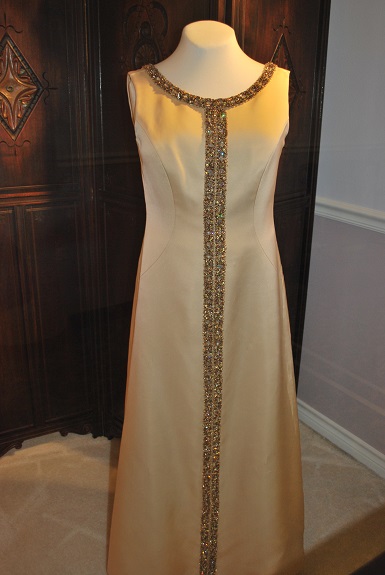 Claudia Alta "Lady Bird" Taylor was born in Karnack, Texas, in 1912. In 1930, she entered The University of Texas and received a Bachelor of Journalism degree and a Bachelor of Arts degree. Lady Bird Taylor was married in 1934 to Lyndon Baines Johnson in San Antonio.
1949 - Lyndon Baines Johnson was a member of the United States Senate, serving as the Senate Majority Leader from 1955-1961.
1961 - Lyndon Baines Johnson was elected Vice President of the United States. He became the 36th President of the United States following the assassination of John Fitzgerald Kennedy in 1963.
Lady Bird Johnson became chairman of a Committee for a More Beautiful Capital. She created a supporting group called the Society for a More Beautiful National Capital whose activities continue to this day.
The gown in the collection is one that Lady Bird Johnson wore while she was living in the White House. Mrs. Johnson donated all her dresses of historical importance to the Lyndon Baines Johnson Library in Austin. The gown in this collection is on indefinite loan from that Library.
Mrs. Johnson's dress is a cream silk sleeveless gown with a scoop neckline with jeweled embellishments along the neckline and down the front center.
Page last updated 11:31 AM, February 17, 2017